Rescue and Renovation
Like most independent locomotive rebuild shops, Metro East Industries in East St. Louis, Illinois, is one of the places that old locomotives go to die.

After six years of catching rain, the 9013 was condemned to a locomotive's death: it would be stripped of usable mechanical components, and the remaining hulk would be cut up for scrap.
But fate took a strange twist when Tom Lambrecht stumbled across the 9013 during the course of his job as General Director of Locomotives for BNSF Railway. While the BNSF would have no use for it, Tom realized there could be a potential business opportunity to convert the locomotive into a lodge and place it at the Izaak Walton Inn. Tom has long admired the Great Northern Railway, and he knew a Big Sky Blue F45 would be a perfect fit with the resort's GN theme and heritage. Tom and his wife, Jamie, established Revelstoke Limited LLC to carry out the plan.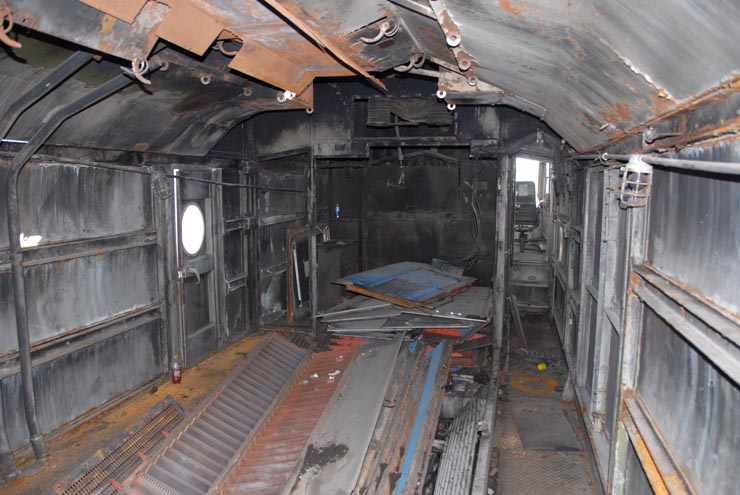 Locomotives are usually dismantled with a "gas axe" – an acetylene torch. But MEI carefully disassembled the 9013 to avoid damaging the carbody when they removed the diesel engine, main alternator, air compressor and other useful components. Grilles and other parts from scrapped Metra F40C commuter locomotives were salvaged and loaded into the 9013's empty carbody; these would be used to make the former Santa Fe locomotive look like Great Northern's.
MEI made the unit roadworthy, and in October 2008 BNSF hauled it from East St. Louis to RELCO Locomotive's modern rebuild facility in Albia, Iowa (left).

Over the next 10 months, RELCO's skilled craftsmen would meticulously restore the carbody, seal it from the elements, install the HVAC, electrical and plumbing systems, frame out the interior walls, and paint it in Great Northern's Big Sky Blue.
All of this presented a spectrum of new challenges that would require new thinking. As far as is known, this was the first time anybody turned a locomotive into living space.
All EMD cowl units eventually suffered this problem: the edges of the side panels would rust, forcing the panel to bow outward.

Furthermore, every one of those rusty edges is an opportunity for water to get inside.

Because of this, all of the panels were removed and replaced with sheet steel (below).

Later, new batten strips were fabricated and installed to retain the locomotive's authentic appearance.
Extra engineering and effort had to be applied throughout the restoration process because Tom was unwilling to compromise the locomotive's appearance.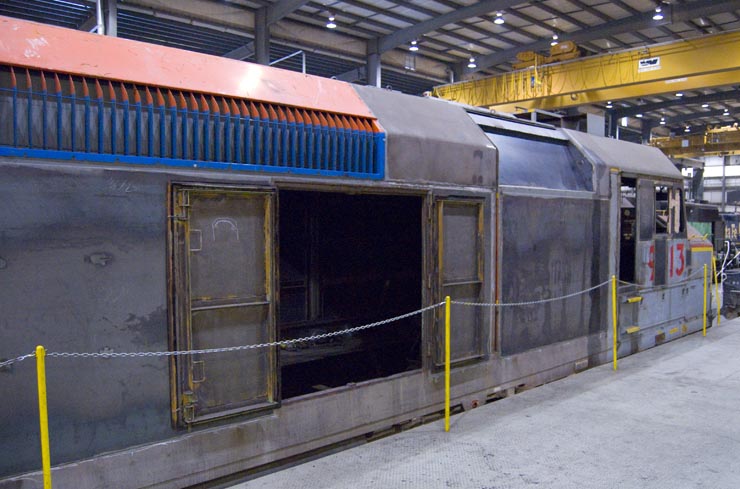 The original engine access doors (above) were removed, and new doors were installed with a unique hinge setup. This allowed them to be motorized so guests can open them from inside.
Locomotives are built in segments so they can be disassembled for service, resulting in lots of joints and seams where water can seep in.

This isn't a problem for a running locomotive, but it can't be tolerated when you're essentially building a home.

RELCO welders used an astonishing amount of welding wire to seal all the seams in the carbody.

Later they would spray the exterior with a pressure washer to check for leaks.
Locomotive frames have a spine of two massive I-beams that support the diesel engine and main alternator, with the engine's oil pan in the trough between these beams. This was the ideal place to run the utilities and ductwork for the HVAC system.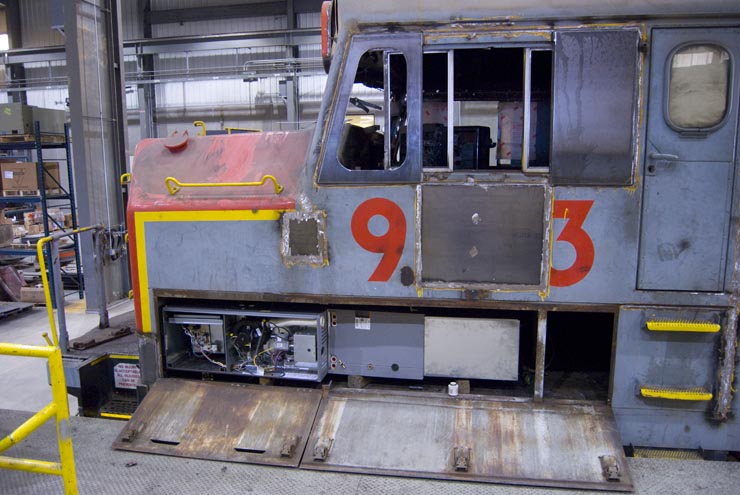 One of the many challenges was locating the furnace, air conditioning and water heater where they wouldn't take up living space, while still being accessible for service. They were installed in the nose and under the cab floor, where the starting batteries once were.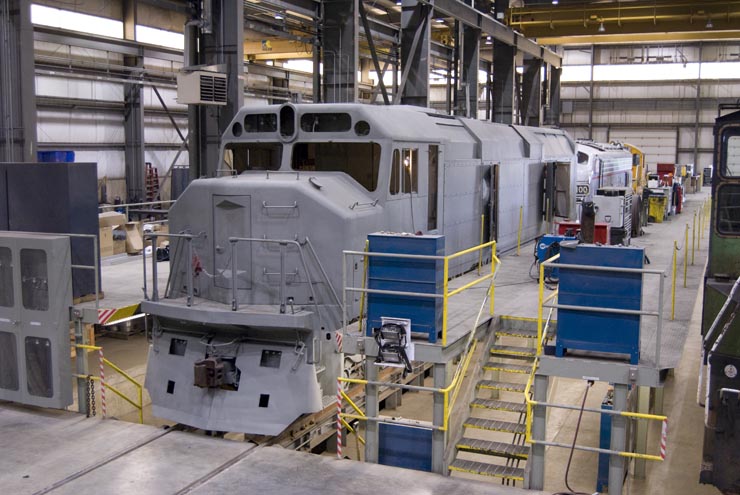 By June 13, 2009, a coat of primer hid the surgical scars and the locomotive was starting to look good again.
Locomotives usually receive many minor modifications over their service career. For example, Santa Fe 5960's number boards were modified, and the round class lights next to them (above) were removed in the middle 1980s. As part of the restoration, these features were returned to their as-built configuration.

While the rest of the restoration was meticulously accurate, a Pyle oscillating headlight (right), salvaged from a Metra F40C, was added because Tom thinks they're cool.
One of GN 441's innovations was converting the radiator fans and dynamic brake blowers to skylights.

Steel rings were installed under the openings; later the fans would be reinstalled and Thermopane glass would be mounted on top and waterproofed.

RELCO also fabricated steel covers to protect the skylights from heavy snow.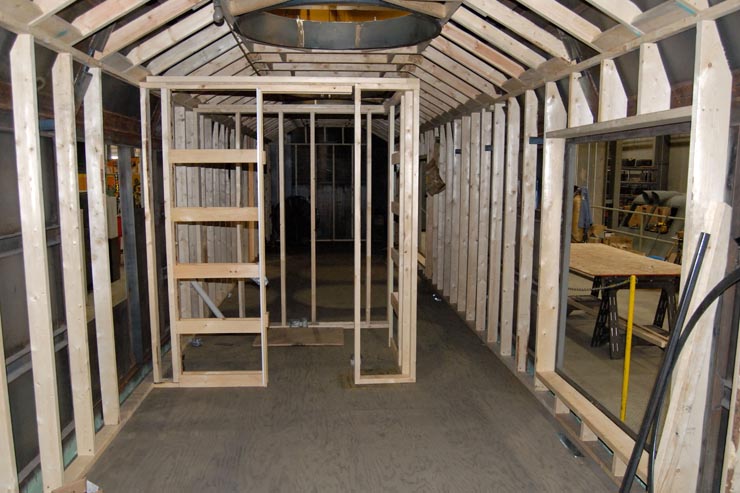 By July the wood subfloor had been installed and the interior was framed out.
The craftsmen at RELCO Locomotives readily took ownership of "the hotel," as they called it.

The high quality of their work is evident throughout GN 441, and they made many suggestions to improve the project.

GN 441 required much work that locomotive repair shops generally don't do, like carpentry. But this didn't faze them.

While they're welders, machinists and electricians now, they came to RELCO from a diverse range of trades, including HVAC, plumbing, household electrical, and installing hardwood floors.

This project put all those skills to work.
(Two photos copyright Jamie Lambrecht.)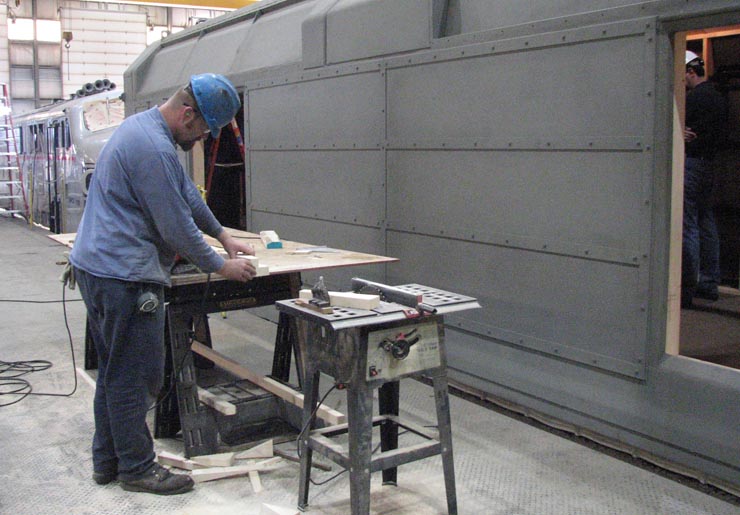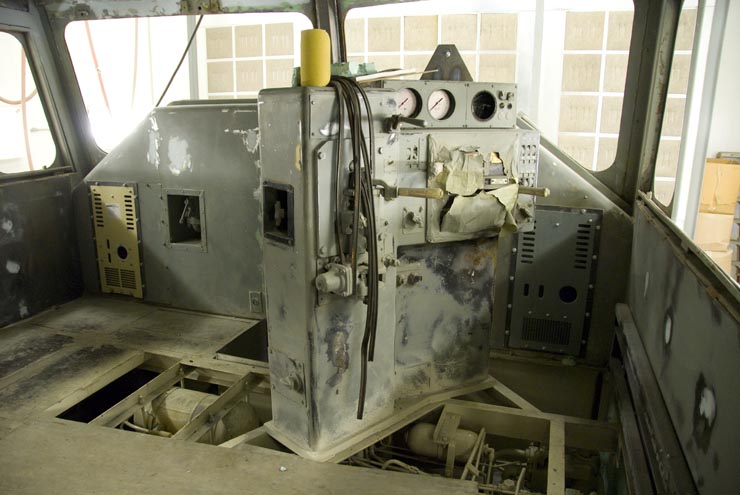 The cab was thoroughly restored. Instead of the federally mandated FRA 223 safety glazing - the stuff that protects train crews and passengers from rock-throwers and other criminals - GN 441 was fitted with Thermopane windows. To enhance guests' comfort, the seats, padded rubber floor, wall colors and headliner were upgraded to the current BNSF standards for new and remanufactured locomotives. There's one exception, however: the seats are leather.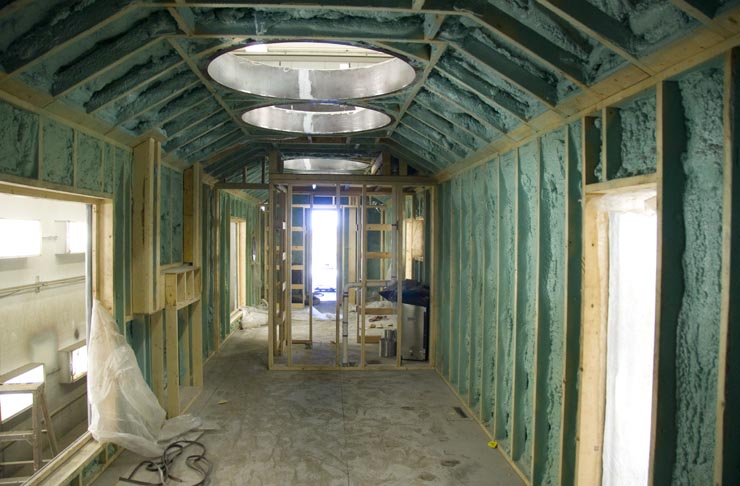 In anticipation of cold Montana winters, the ceiling, walls, floor and cab received a thorough application of spray foam insulation. By late July some more work remains to be done at RELCO, including installing the reclaimed oak floor. But GN 441 is already in the paint shop, and it will go to Montana with the inside looking much like this. Locomotive frames flex, so the rest of the interior work will have to be done at Essex after the 441 is lifted onto its track.
All photos copyright Tom Lambrecht or Bill Christopher unless credited otherwise
Home - Izaak Walton Inn website - IWI GN 441 page - IWI "J.J." page - Online Reservations
Mountain Retreat - Living Room - Master Suite - Kitchen - Control Cab - Luxury Caboose "J.J."
Izaak Walton Inn - Glacier National Park - Glacier Area Activities - Going-to-the-Sun Road
EMD F45 History - GN 441 History - F45 Technical Data - Big Sky Blue - GN 400 "Hustle Muscle"
Rescue and Renovation - Paint Shop - Builder's Photos
Westbound to Montana - The Big Lift - Bringing Montana Indoors - J.J. Renovation
Guest Book - Runby Page - Site Map - Links - Contact Us