GN 441's Long, Strange Trip
Only one more railroad ordered F45s. Santa Fe was the first customer for this model, taking delivery of 40 units numbered 1900 through 1939 in the summer of 1968, a year before the Great Northern.

The locomotive that is now GN 441 was one of these, Santa Fe 1910. (In an amazing coincidence, 1910 was the year that Glacier National Park was established.)

On June 24, 1968, railroaders are inspecting the brand-new 1910 and sister 1911 on their maiden run from Chicago to California as they pause at the fuel rack at Clovis, New Mexico. Behind them is one of Santa Fe's many SD45s.

Santa Fe 1910 has been in service for only a couple of days, but it has already demonstrated why cows need to stay off railroad tracks.
"She's slogged tonnage up Ash Hill west out of Bagdad, held back Mr. Newton from Goffs down the Colorado River at Topock and then ground up the Sacramento Wash to beautiful downtown Kingman, Arizona. She flew across the Mojave from Barstow to Mojave to join the mighty Southern Pacific for their joint assault on the east side of Tehachapi.

A true desert rat! She's no stranger to dust and sandstorms and 130-degree heat. Probably out-ran a tornado or two east of New Mexico."

Phil Schmierer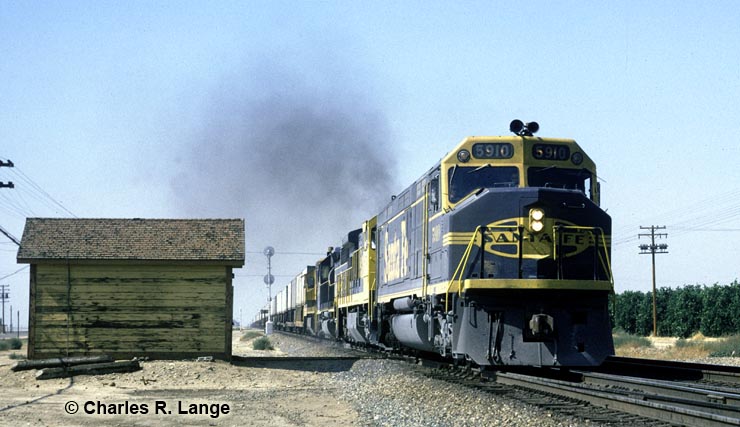 The future Great Northern 441 blasts through Sandcut, California, with a hot eastbound piggyback train in the early 1970s. Originally geared for a top speed of 79 MPH, it hustled fast freight trains between California and the Midwest and Texas. Santa Fe liked to change their locomotive numbers, and the 1910 was renumbered to 5910 on July 14, 1970, as part of the railroad's general renumbering.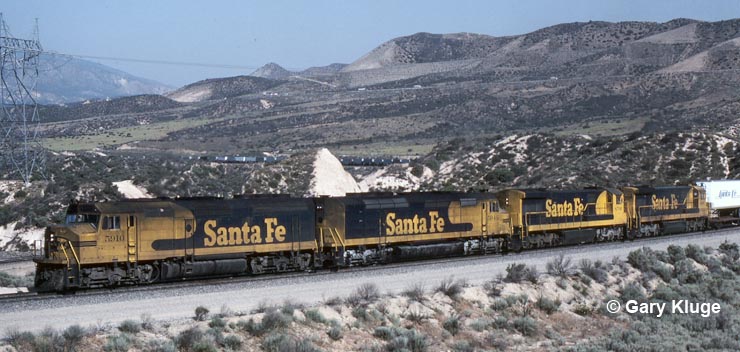 In October 1976 the 5910 was repainted in Santa Fe's new "yellow warbonnet" scheme. Inspired by the iconic red and silver scheme Santa Fe used on their passenger locomotives, this scheme symbolizes a Native American headdress. The 5910 had plenty of time to get dirty again by the time it hauled an eastbound piggyback train on the north track on California's Cajon Pass in May 1981. That's the rear of its train in the distance.

The 5910 got a new lease on life when it was remanufactured at the Santa Fe's heavy rebuild shop in San Bernardino, California. Electrical upgrades and other modifications extended its service life. It was released from the shops on February 9, 1983, wearing a new number, 5960, to signify its capital rebuilding. In November 1984 it's passing the "San Berdoo" shops on a westbound train.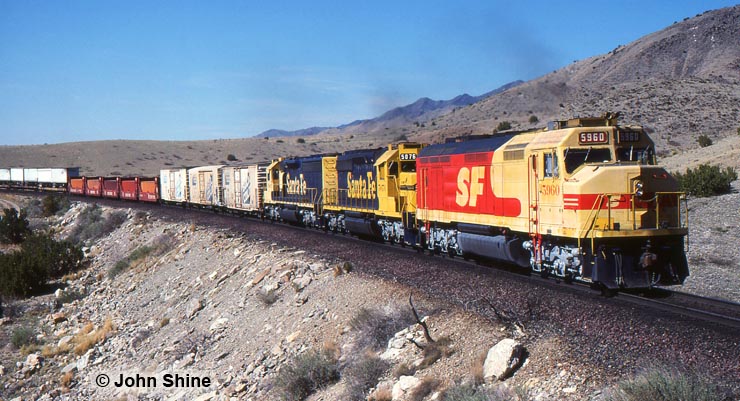 Santa Fe 5960 shows off its ubersaturated new colors as it leads an eastbound freight into New Mexico's Abo Canyon on April 14, 1990.
In 1983 the Southern Pacific Railroad and the Atchison, Topeka and Santa Fe Railway wanted to merge and create a new railroad, SPSF Railway. While the Interstate Commerce Commission studied their proposal, both railroads started painting their locomotives in the new SPSF paint scheme, which incorporated the yellow warbonnet from the Santa Fe and red from the Southern Pacific. Railfans quickly dubbed this the "Kodachrome" paint scheme for its resemblance to the boxes of film often used to photograph it, including the image above.
Notice the 5960's side only says SF, with enough room to add SP after the merger. SP units likewise left room to add the SF. But the ICC rejected the merger in 1986, and ever since, SPSF has stood for "Shouldn't Paint So Fast."
Santa Fe didn't know it at the time, but the ICC did them a huge favor. Because they didn't get the SP, the Santa Fe was able to merge with the Burlington Northern in 1995, creating today's BNSF Railway – one of railroading's great success stories.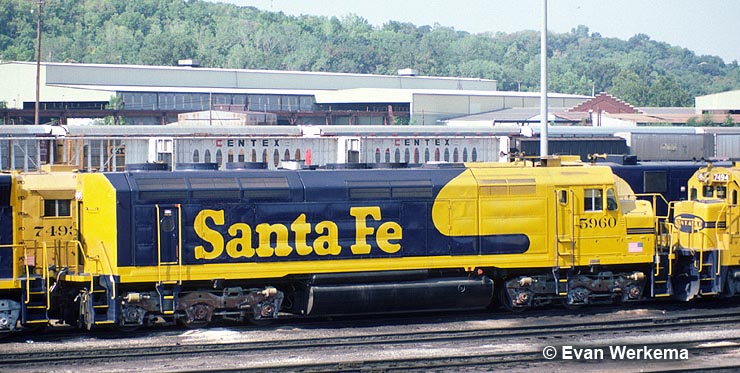 Santa Fe repainted the 5960 back into their "Yellow Warbonnet" scheme, but they wouldn't keep it much longer. By August 16, 1991, it was stored at Argentine Yard in Kansas City, Kansas. In a few years Santa Fe would start selling off its F45s and SD45s.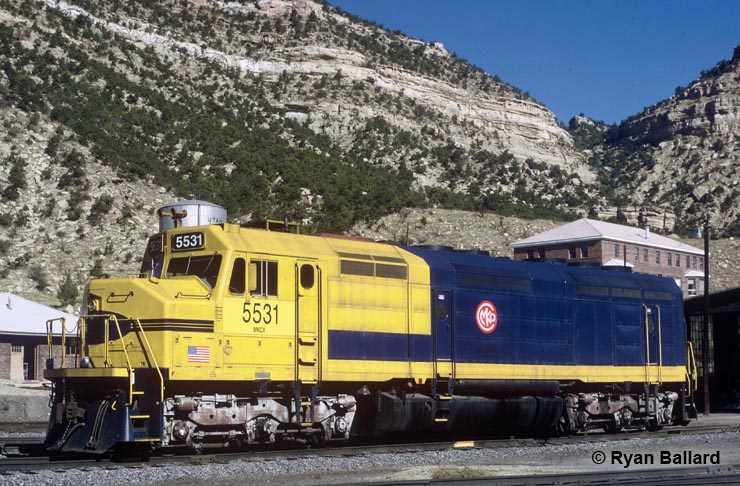 The Santa Fe sold the 5960 in January 1994 to Morrison Knudsen, an engineering and construction company that also remanufactured and leased locomotives. The Santa Fe markings were painted out, and it was renumbered to MKCX 5531 and leased to the Utah Railway, where it hauled coal over the Wasatch Mountain Range in eastern Utah. Above, the 5531 waits for its next assignment at the Utah Railway's shops at Martin, Utah, on August 24, 1994.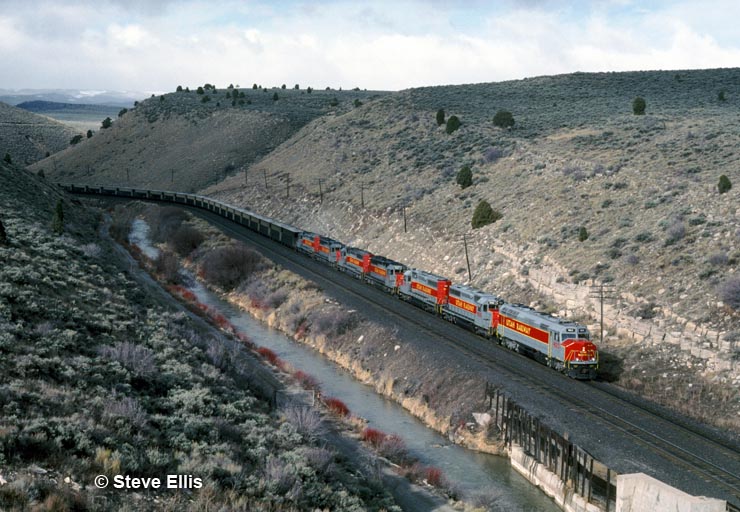 In May of 1995 the locomotive was repainted in full Utah Railway colors and given yet another number: Utah 9013. On April 22, 1999, it's rolling downhill from Soldier Summit at Kyune, Utah, with an empty eastbound train bound for the Wildcat Mine.
| | |
| --- | --- |
| | The 9013 worked until September 2001 when the lease expired with Helm Rail Equipment Corporation, who had purchased the locomotive from MK Rail during the lease. After three decades of service, the 9013 was moved to a salvage yard in East St. Louis, Illinois, where it sat out of use, awaiting a new owner – or scrapping. |
Time was running out for the F45. Of the 86 units built, the majority were retired by their original owners in the late 1980s and early 1990s. A few were resold to regional and short line railroads where they continued to work for several more years. But most of these have been retired and scrapped as well, including all of the former Great Northern units. Today only five F45s are known to survive, and none of them are in service.
Information from:

The ATSF Railfan Page (check out their GN 441 page)
Do you have photos of this locomotive in service?
Please contact us!
Last photo copyright Tom Lambrecht
Home - Izaak Walton Inn website - IWI GN 441 page - IWI "J.J." page - Online Reservations
Mountain Retreat - Living Room - Master Suite - Kitchen - Control Cab - Luxury Caboose "J.J."
Izaak Walton Inn - Glacier National Park - Glacier Area Activities - Going-to-the-Sun Road
EMD F45 History - GN 441 History - F45 Technical Data - Big Sky Blue - GN 400 "Hustle Muscle"
Rescue and Renovation - Paint Shop - Builder's Photos
Westbound to Montana - The Big Lift - Bringing Montana Indoors - J.J. Renovation
Guest Book - Runby Page - Site Map - Links - Contact Us