Going-to-the-Sun Road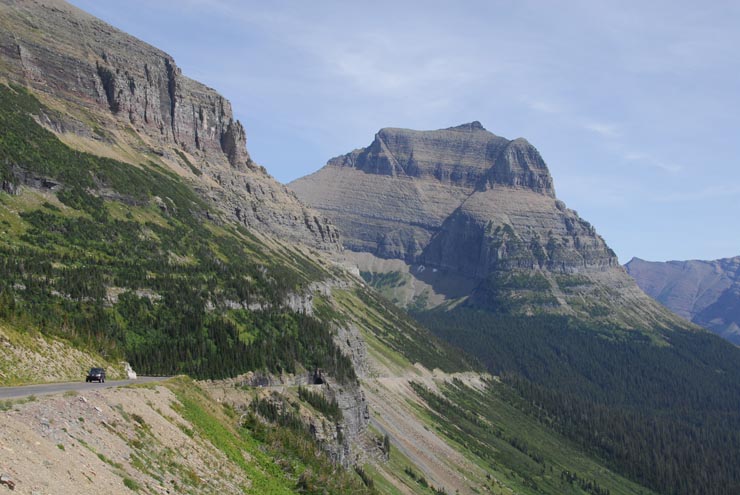 "Real men and women don't need guard rails." Going-to-the-Sun Road, Glacier Park's spectacularly scenic ride, crosses the Continental Divide at 6,646 foot Logan Pass. It's a great place to confront your fears of mountain driving; if you get up the nerve, you can rent a car at the Izaak Walton Inn. Or you can ride one of the "Jammer" tours that start at the Inn's door.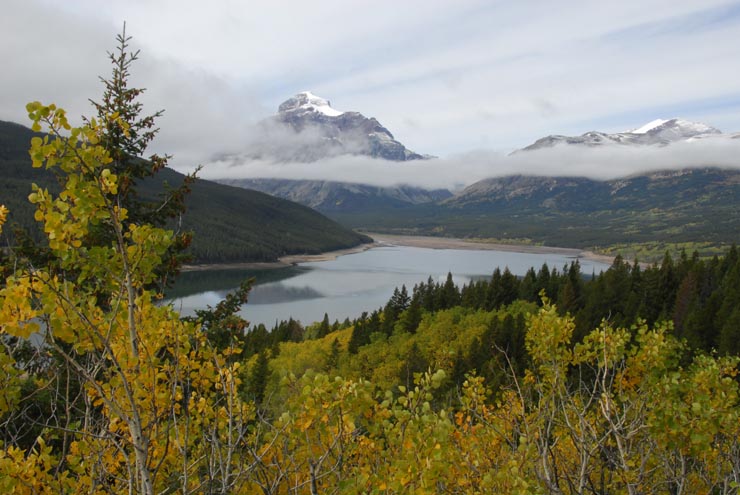 The scenery starts even before you get to Going-to-the-Sun Road. Aspen are ablaze along Montana Route 49 at Lower Two Medicine Lake on Glacier's east side.
Waterfalls abound along Going-to-the-Sun Road, so close that you're guaranteed to get your car wet.

Haystack Creek dwarfs an SUV as it tumbles down like a wedding veil.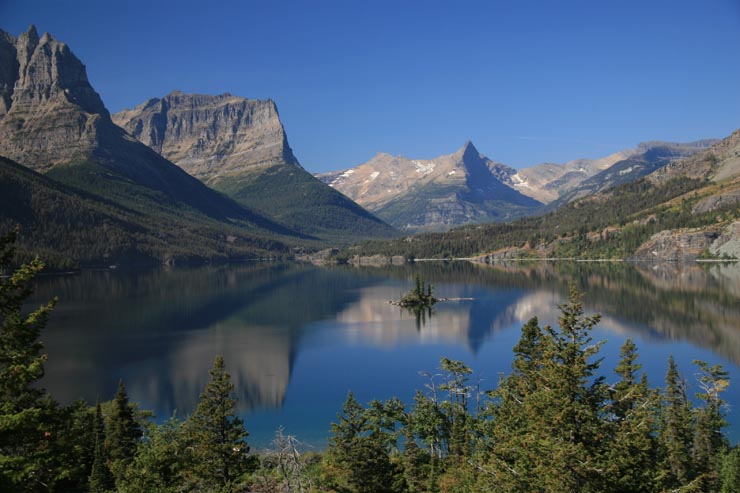 This may be the most familiar image of Glacier Park: Wild Goose Island in St. Mary Lake. It's just a short walk off Going-to-the-Sun Road. If the air is still, you might get a stunning reflection. (Photo copyright Dan Nehmer.)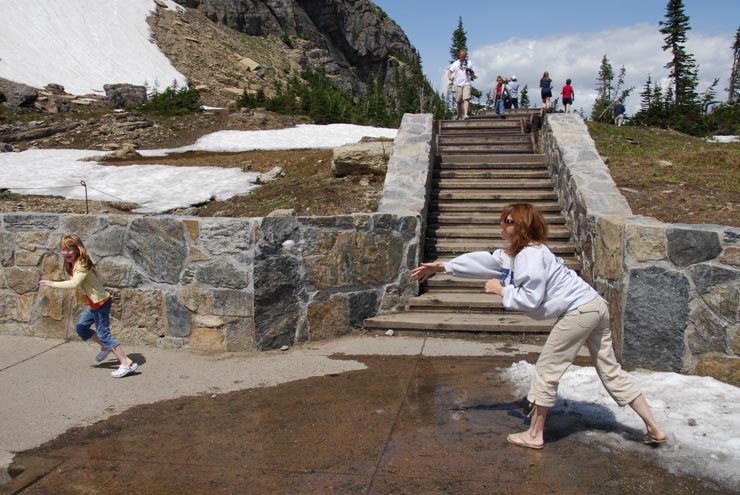 Snowball fights in July! Because of Logan Pass's high altitude and northern latitude, Going-to-the-Sun Road is open completely only a couple months a year, typically late June through early September. Even if it's closed at the top, however, you can still enjoy a spectacular ride on the east and west sides.
| | | | | |
| --- | --- | --- | --- | --- |
| | | | | |
| | | | Don't spend so much time looking up that you forget to look down! Wildflowers abound in Glacier Park in season, including wild lupine (left), beargrass, monkeyflower, glacier lily, fireweed, balsamroot and Indian paintbrush. You'll often find them growing by the side of Going-to-the-Sun Road. | |
| | | | | |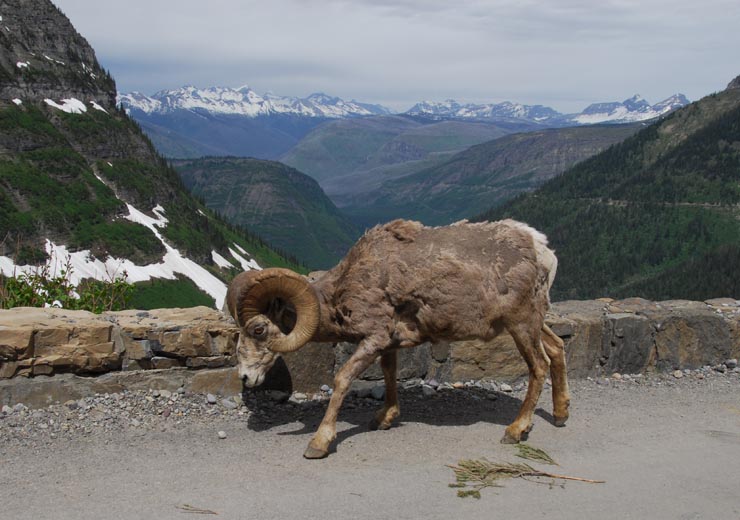 Drive carefully! Not only do you have to watch for other traffic on this twisting, climbing road, you may have to share the road with wildlife like this bighorn sheep ram.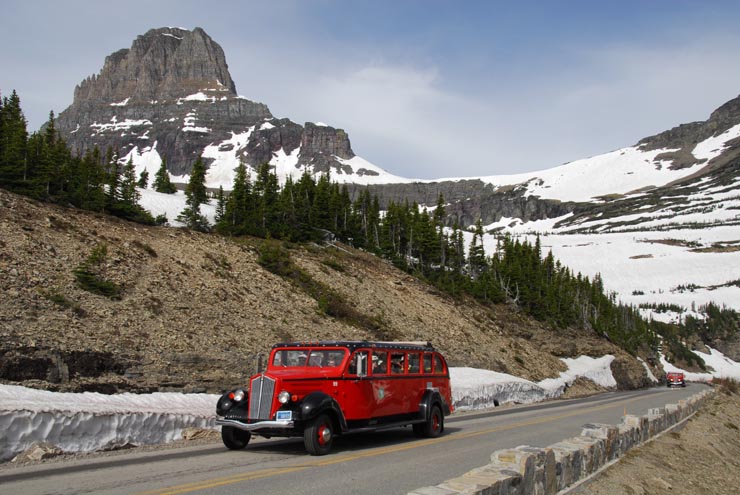 "Jammer" tours offer an easy and relaxing way to take in Glacier's wonders. These 1930s White coaches were nicknamed for their gear-crunching standard transmissions. In 2001 they were rejuvenated with "green" propane-powered Ford chassis featuring automatic transmissions and better brakes. During the summer you can take a Jammer tour over Going-to-the-Sun Road, right from the Izaak Walton Inn's door.
All photos copyright Bill Christopher unless credited otherwise
Home - Izaak Walton Inn website - IWI GN 441 page - IWI "J.J." page - Online Reservations
Mountain Retreat - Living Room - Master Suite - Kitchen - Control Cab - Luxury Caboose "J.J."
Izaak Walton Inn - Glacier National Park - Glacier Area Activities - Going-to-the-Sun Road
EMD F45 History - GN 441 History - F45 Technical Data - Big Sky Blue - GN 400 "Hustle Muscle"
Rescue and Renovation - Paint Shop - Builder's Photos
Westbound to Montana - The Big Lift - Bringing Montana Indoors - J.J. Renovation
Guest Book - Runby Page - Site Map - Links - Contact Us