The Izaak Walton Inn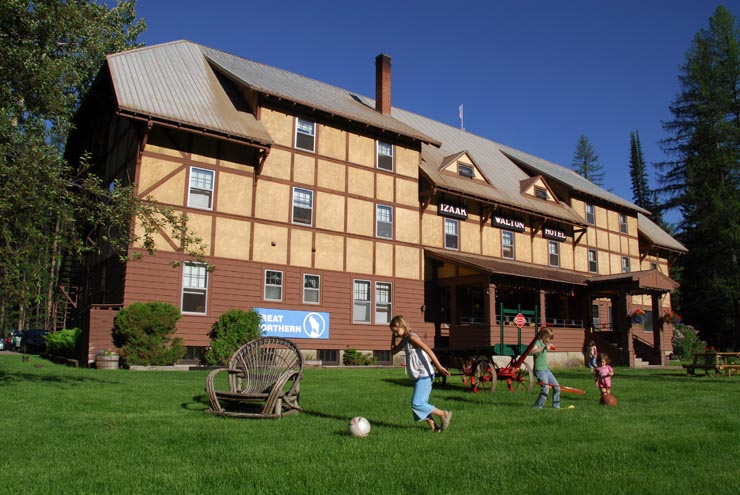 Great Northern 441 is part of the Izaak Walton Inn at Essex, Montana, on the south side of Glacier National Park. Nestled amid the Rocky Mountains, high above the Flathead River, the Izaak Walton Inn truly is a place "where time stands still and lets you catch up."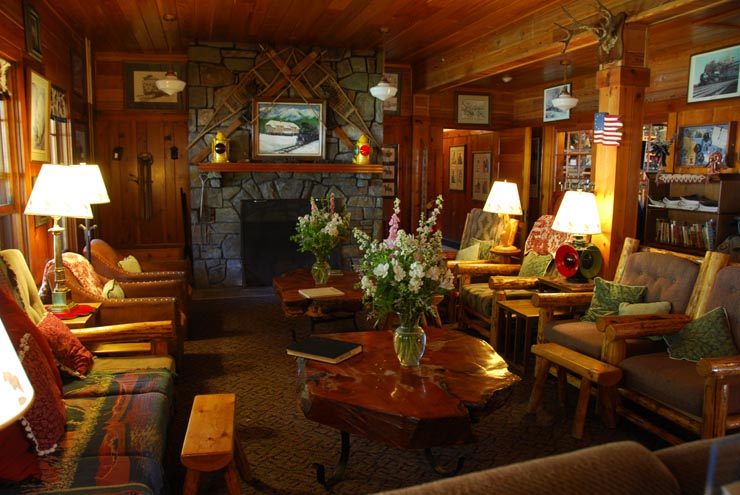 Warm, rustic and inviting, the Izaak Walton Inn is a splendid place to kick back and relax. Named for the famous English angler who literally wrote the book on fishing, it's the perfect "base camp" for your Glacier Park adventure.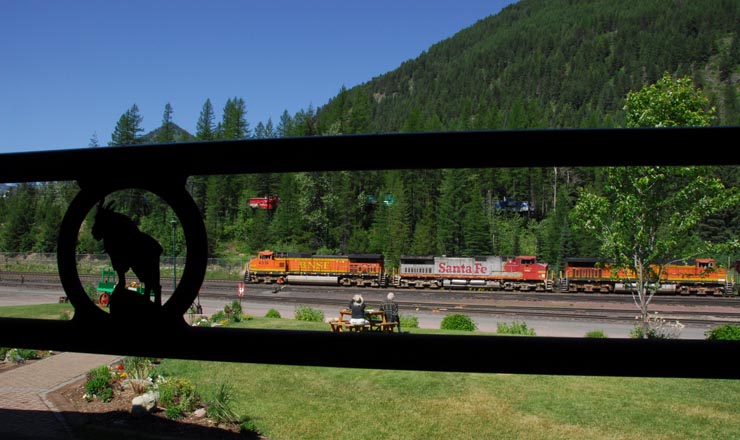 The Izaak Walton Inn was built for the Great Northern Railway in 1939 to host tourists in the summer and railroad workers in the winter – a function it serves to this day. It's located on BNSF Railway's Great Northern Corridor, their mainline between Chicago and the Pacific Northwest. The Izaak Walton Inn is a great place to watch trains roll by on their trip over Marias Pass as they cross the Continental Divide.
Amtrak's Empire Builder stops here on its journey from Chicago to Seattle and Portland, providing easy access in any weather. Because of its railroad connection, the Izaak Walton Inn is the only Glacier Park resort that is open year-round.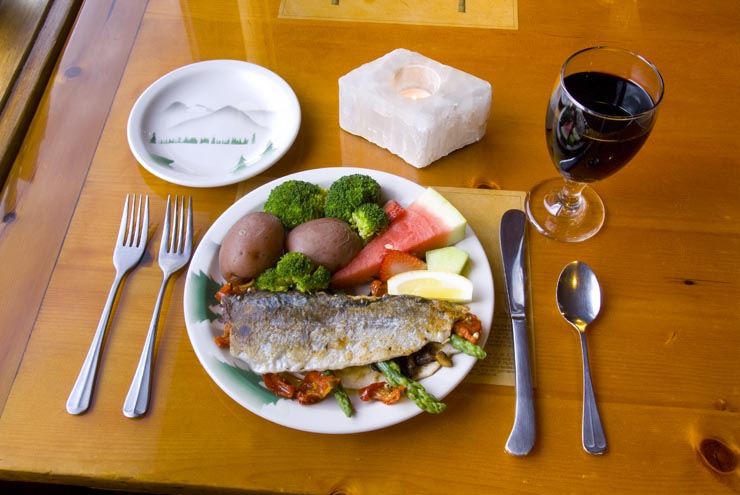 | | |
| --- | --- |
| | |
| Fine dining is only a short walk from GN 441, in the Izaak Walton Inn's Dining Car Restaurant. Friendly service and delicious meals await you breakfast, lunch, and dinner. Many entrees carry a "Montana signature," featuring wild huckleberries, top-notch beef, quality buffalo meats, rocky mountain elk, or rainbow trout (above). Click here for more information. | |
| | |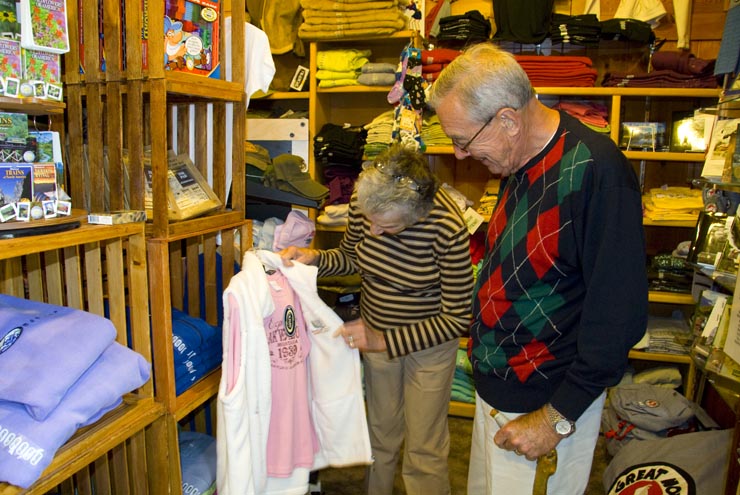 The James J. Hill Gift Shop offers a wide selection of "Made in Montana" souvenirs: books about Glacier Park and railroading . . Izaak Walton Inn clothing . . Great Northern memorabilia . . handmade jewelry . .  and Great Northern Railway dinnerware reproductions. Click here for more information. You're sure to find the perfect way to commemorate your stay.
| | |
| --- | --- |
| Enjoy a Montana-brewed beer downstairs in the Flag Stop Bar, where every night is Saturday night. Like the rest of the Izaak Walton Inn, the Flag Stop Bar is richly appointed in Great Northern memorabilia. Free wireless internet is also available in the bar. | |
| | |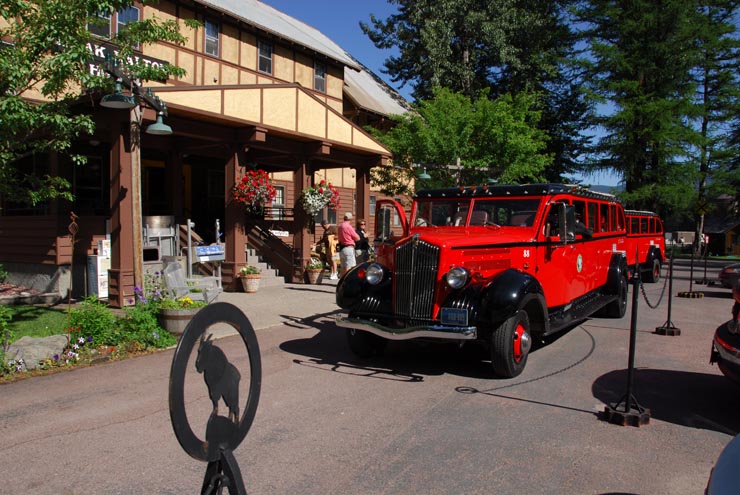 "Jammer" tours offer an easy and relaxing way to take in Glacier's wonders. During the summer you can take a Jammer tour over Going-to-the-Sun Road, right from the Izaak Walton Inn's door. Or, if you wish, rental cars are available on site.
Click here for the Izaak Walton Inn website.
Click here for Izaak Walton Inn's GN 441 page.
Click here for Izaak Walton Inn's Luxury Caboose "J.J." page.
Click here for rates and availability.
All photos copyright Bill Christopher
Home - Izaak Walton Inn website - IWI GN 441 page - IWI "J.J." page - Online Reservations
Mountain Retreat - Living Room - Master Suite - Kitchen - Control Cab - Luxury Caboose "J.J."
Izaak Walton Inn - Glacier National Park - Glacier Area Activities - Going-to-the-Sun Road
EMD F45 History - GN 441 History - F45 Technical Data - Big Sky Blue - GN 400 "Hustle Muscle"
Rescue and Renovation - Paint Shop - Builder's Photos
Westbound to Montana - The Big Lift - Bringing Montana Indoors - J.J. Renovation
Guest Book - Runby Page - Site Map - Links - Contact Us