A Mountain Retreat like no other

This is what
you've been looking for.

Reach out and grasp the serenity of a mist-shrouded mountain. Embrace a rushing stream. Reel in a trout, or a glimpse of a mountain goat. Lean into the breeze whistling through the pines.

Or not. Drench yourself in Class IV rapids. Snowshoe the trails of the Blackfoot and the Flathead. Ride a horse. Or white-knuckle one of America's most spectacular drives.

Welcome to the Crown of the Continent, a stunning land of extremes where every soul can find their own adventure.

Welcome to Great Northern 441,
your perfect base camp.

"Montana is the window to the soul and restoration of the spirit. This is our second trip for my husband and I and it is truly a magical place."

Wheeling, Illinois
Great Northern 441 Interior Layout

Click on a room to see and learn more

Easy to reach on Amtrak!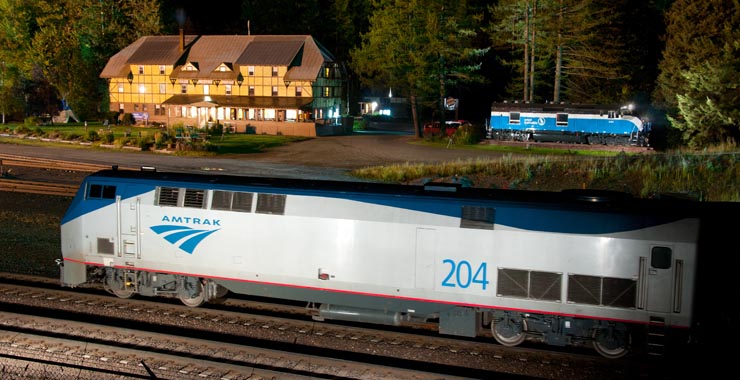 Great Northern 441 is easy to reach year-round, no matter the weather. Amtrak's Empire Builder provides direct service daily from Chicago, Minneapolis/St. Paul, Seattle and Portland. The Empire Builder stops within walking distance, and the Izaak Walton Inn will send their van for you if they know you're coming. Ride the rails in comfort on the way to your Montana adventure! (Photo copyright Moonlight Haze.)
Click here for rates and availability.
All photos copyright Tom or Jamie Lambrecht or Bill Christopher unless credited otherwise
Home - Izaak Walton Inn website - IWI GN 441 page - IWI "J.J." page - Online Reservations
Mountain Retreat - Living Room - Master Suite - Kitchen - Control Cab - Luxury Caboose "J.J."
Izaak Walton Inn - Glacier National Park - Glacier Area Activities - Going-to-the-Sun Road
EMD F45 History - GN 441 History - F45 Technical Data - Big Sky Blue - GN 400 "Hustle Muscle"
Rescue and Renovation - Paint Shop - Builder's Photos
Westbound to Montana - The Big Lift - Bringing Montana Indoors - J.J. Renovation
Guest Book - Runby Page - Site Map - Links - Contact Us