Glacier Area Activities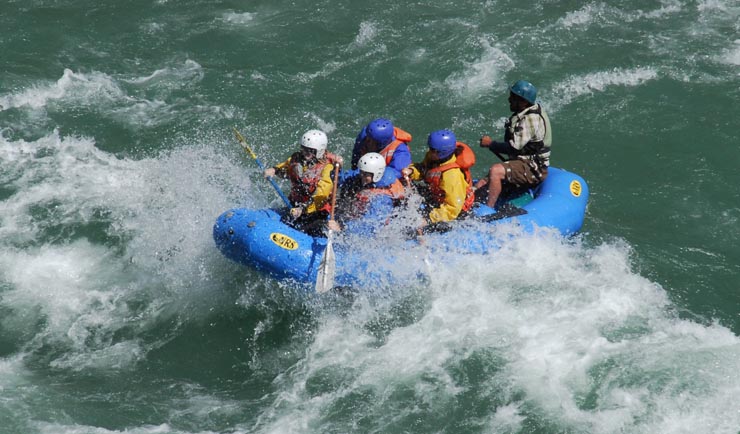 Want a wild, wet adventure? Try whitewater rafting in the Middle and North Forks of the Flathead River, on the southern and western boundaries of Glacier National Park. You can choose gentle trips for families with young children, family-friendly trips for more excitement, or Class IV rapids guaranteed to get you wet. They're a great way to see wildlife, too! The Izaak Walton Inn can help you book your trip and arrange for a free shuttle that leaves directly from the Inn. Click here for more information.
What's a Western adventure without riding horseback? The first white explorers came to what is now Glacier National Park by horse, and visitors have discovered the park's splendor on horseback since the Great Northern Railway reached the area in the 1890s.

Swan Mountain Outfitters offers trail rides throughout the park, starting from Apgar, Lake McDonald and Many Glacier (right). They can accommodate riders of all skill levels on rides ranging from one hour to all day. Click here for more information.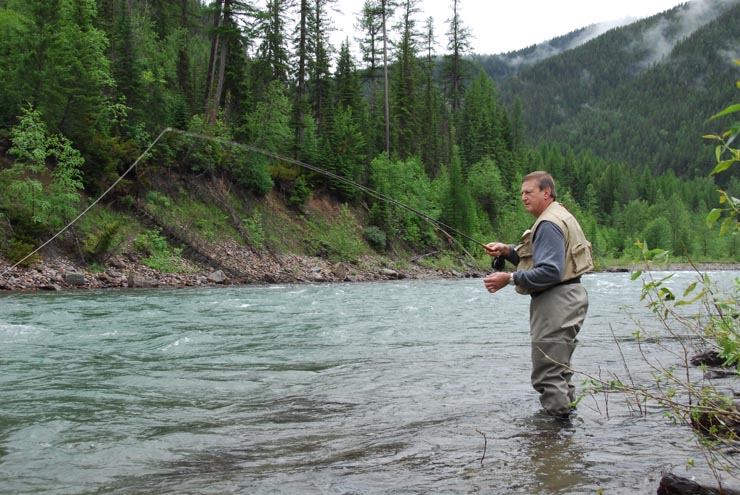 If you're in the mood for relaxation, try fishing the Flathead River. It's home to cutthroat, rainbow, brook and bull trout (be sure to follow local fishing regulations). Since the river is fed by glacial run-off, the cold water isn't hospitable to insects, so the fish are hungry. The spectacular wilderness, wildlife watching and tranquility ensure a memorable trip.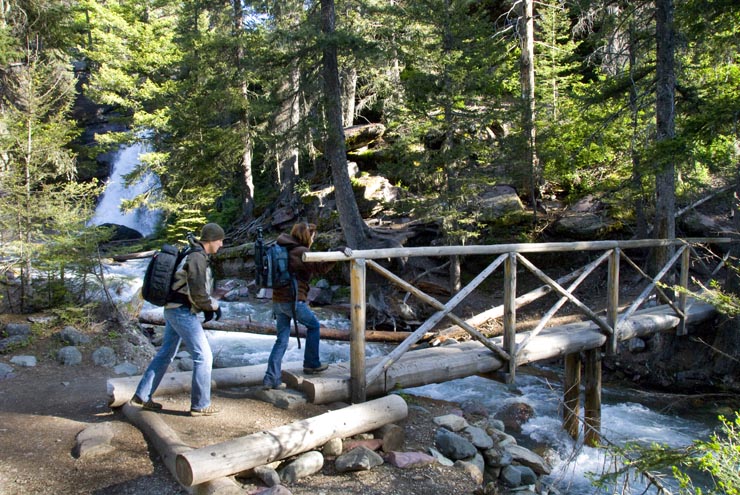 Glacier National Park is a hiker's paradise; almost 700 miles of trails crisscross the park to hidden treasures like Baring Falls. You can hike for an hour or less from Going to the Sun Road, opt for a day hike, or enjoy backcountry camping at campsites along the trails. Ask a park ranger about trail options; some may require permits.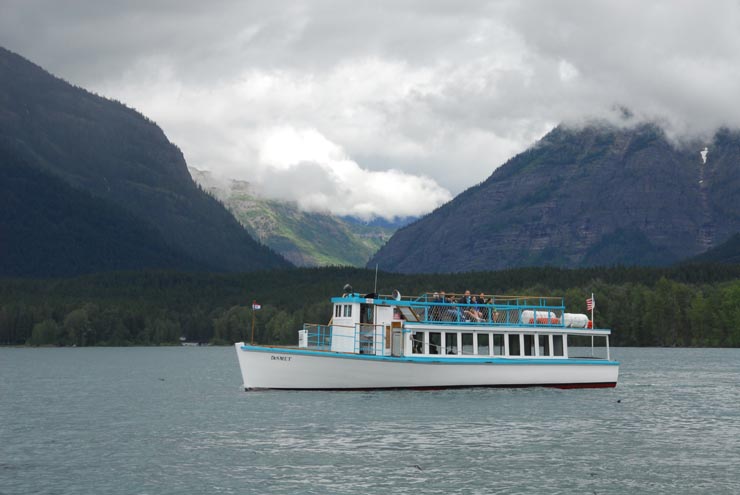 Before there were roads in Glacier National Park, visitors enjoyed the park's splendor by boat – something you can still experience. Explore a side of the park you can't see from your car by taking one of Glacier Park Boat Company's boat tours on Lake McDonald, St. Mary Lake, Swiftcurrent Lake (Many Glacier), or Two Medicine Lake. Some tours offer guided walks or accommodate hiking and picnicking in back country. Click here for more information. These boats are part of the park's history; the DeSmet (above) has been plying the waters of Lake McDonald since 1930.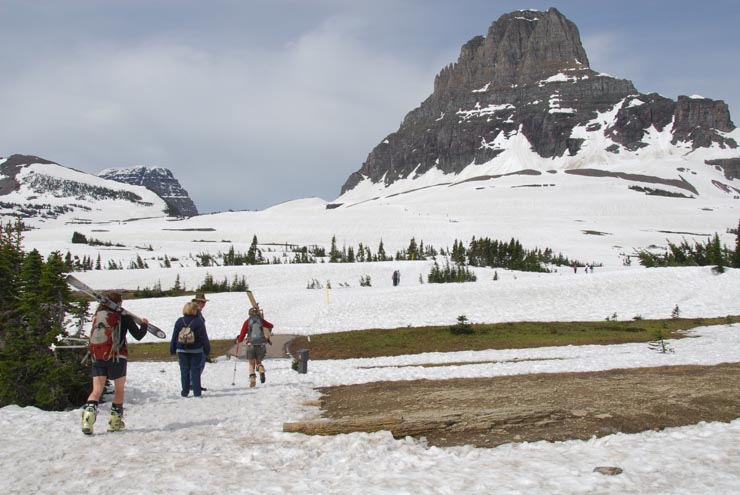 Skiing and snowshoeing are almost year-round activities; this photo was taken on July 1, 2010, near the visitor center at the summit of Going to the Sun Road. Guided ski tours on the Continental Divide and snowshoe tours are available in Glacier National Park. The Izaak Walton Inn also features 20 miles of snow favored, wind sheltered cross country ski trails accessible right at the lodge.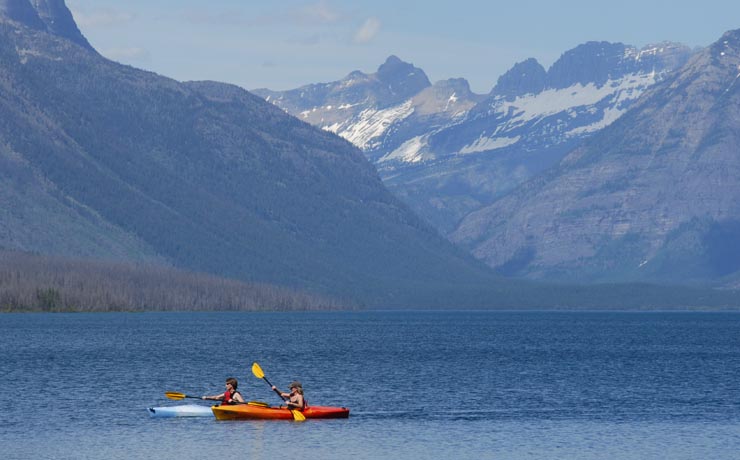 For an upclose and personal encounter with Lake McDonald, rent a kayak! Small outboard boats are also available for rent at Apgar Village on Glacier's west side.
All photos copyright Bill Christopher
Home - Izaak Walton Inn website - IWI GN 441 page - IWI "J.J." page - Online Reservations
Mountain Retreat - Living Room - Master Suite - Kitchen - Control Cab - Luxury Caboose "J.J."
Izaak Walton Inn - Glacier National Park - Glacier Area Activities - Going-to-the-Sun Road
EMD F45 History - GN 441 History - F45 Technical Data - Big Sky Blue - GN 400 "Hustle Muscle"
Rescue and Renovation - Paint Shop - Builder's Photos
Westbound to Montana - The Big Lift - Bringing Montana Indoors - J.J. Renovation
Guest Book - Runby Page - Site Map - Links - Contact Us