Glacier National Park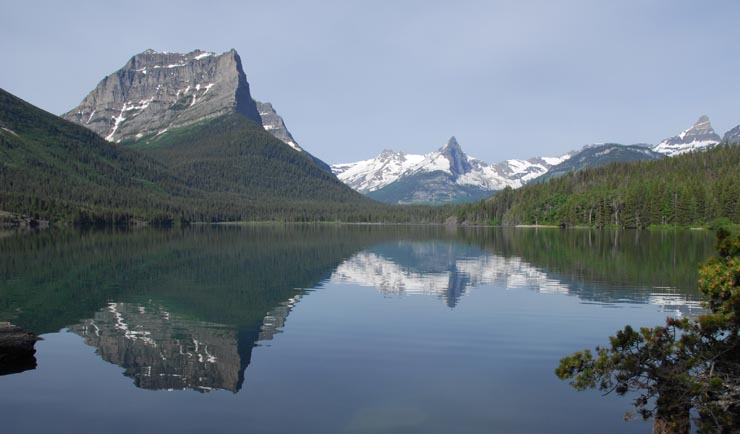 Come out to the West,
where the mountains call,
and play mid nature's grandeur.

Throw out your chest and thrill with the very joy of living.

The scenic vastness
of the Rockies,
sparkling lakes of
wondrous azure and
giant glaciers,
glistening, rockbound,
above Alpine meadows,
flower-carpeted and
timber-shadowed,
lures you, tempts you,
and brings you smilingly
back to yourself.

From a 1921
Great Northern Railway ad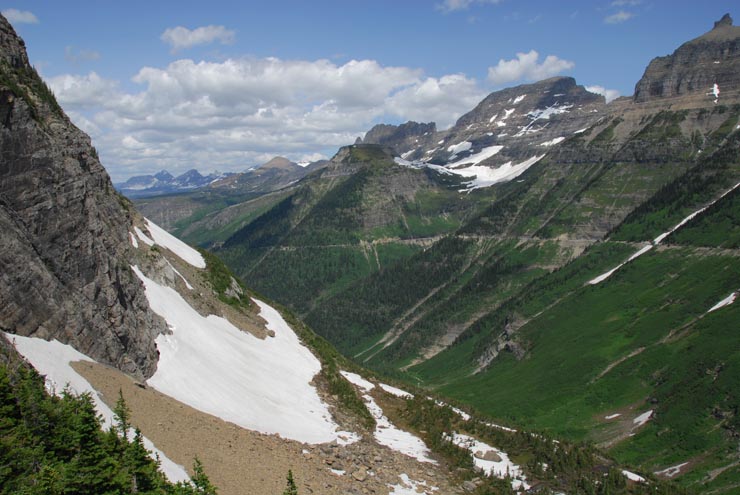 Glacier National Park is BIG: bigger than Rhode Island, with big mountains piercing the Big Sky of Montana. It's a stunning land of glacier-saddled peaks, deep, pristine lakes and towering pine forests giving way to tundra. If you like to be overwhelmed by the scale of Mother Nature, this is your place.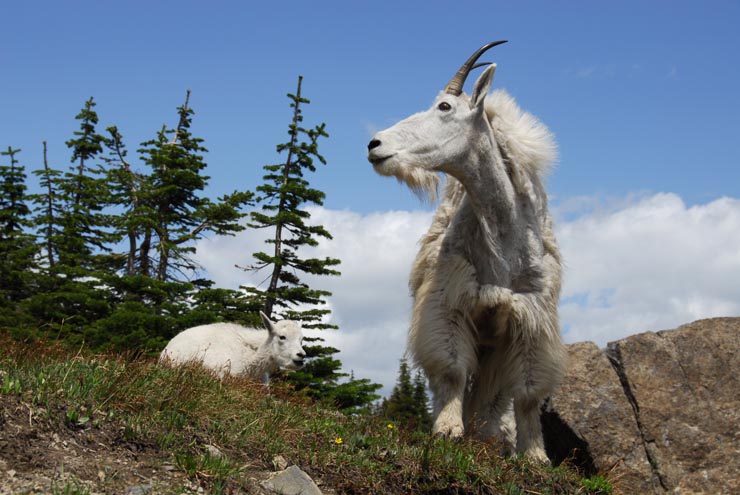 The mountain goat (Oreamnos americanus) is one of Glacier Park's signature species, as well as the corporate symbol of the Great Northern Railway. These hardy and sure-footed creatures are as curious about us as we are about them.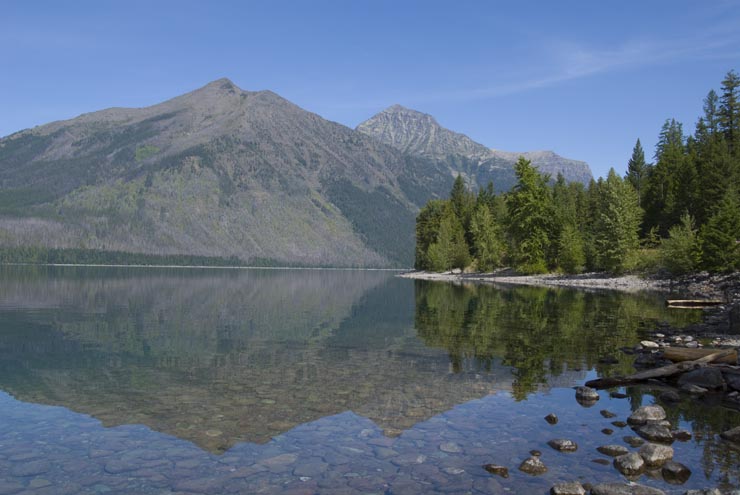 Lake McDonald, over 10 miles long, is the largest of Glacier's 130-plus named lakes. Before Going-to-the-Sun Road was completed in 1932, tourists would journey through the park by boat – something you can still do at Glacier.
Here you'll find a hiker's paradise with almost 700 miles of trails, such as Sun Point along
St. Mary Lake.

Glacier was established as a National Park
on May 11, 1910.

The Great Northern Railway, whose tracks define the southern border of the park, promoted tourism and brought millions of visitors to the rugged and remote region.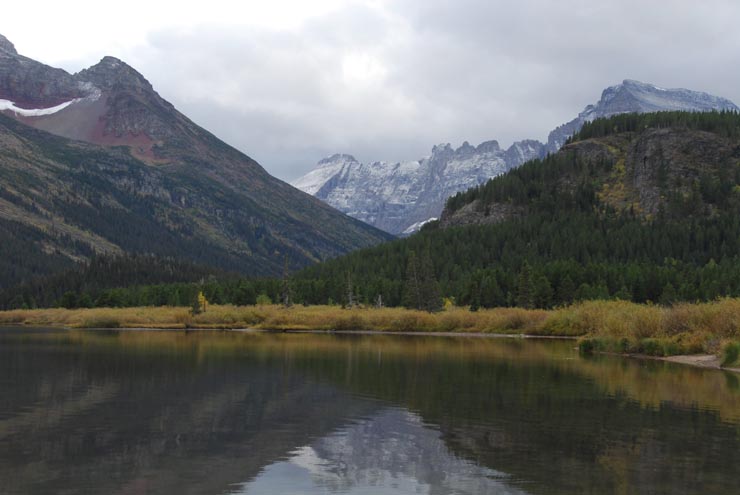 If you've done Going-to-the-Sun Road, you still haven't done Glacier. There are other easy-to-reach destinations like Swiftcurrent Lake at Many Glacier.
Leave the car behind and take to the trails if you want to discover treasures like St. Mary Falls.
But watch out for grizzlies.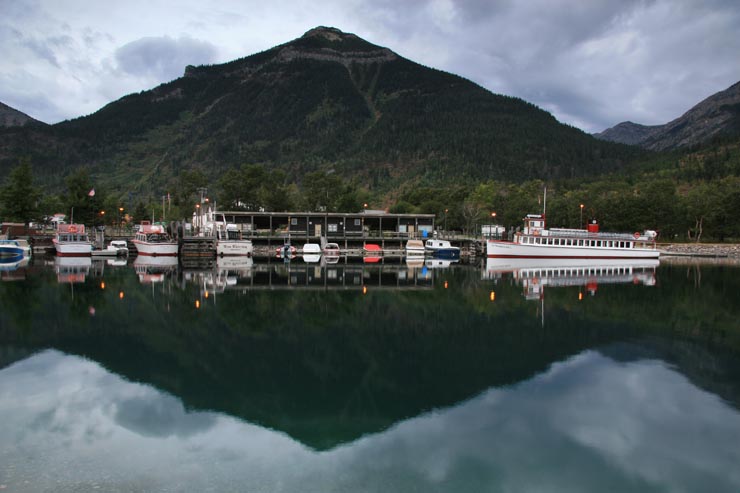 Glacier National Park's northern boundary is the Canadian border; on the other side is Waterton Lakes National Park in Alberta. In 1932, the two parks were designated the Waterton-Glacier International Peace Park, the world's first international park. (Photo copyright Dan Nehmer.)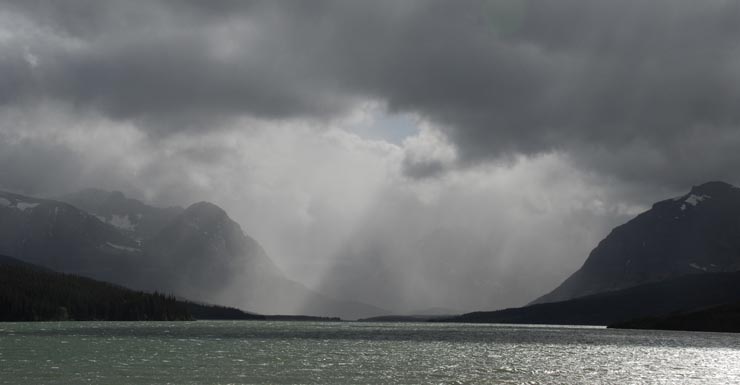 Even when the weather isn't pretty, Glacier Park still looks spectacular. Sunlight filters through a summer rainstorm on Lake Sherburne on the way to Many Glacier.
All photos copyright Bill Christopher unless credited otherwise
Home - Izaak Walton Inn website - IWI GN 441 page - IWI "J.J." page - Online Reservations
Mountain Retreat - Living Room - Master Suite - Kitchen - Control Cab - Luxury Caboose "J.J."
Izaak Walton Inn - Glacier National Park - Glacier Area Activities - Going-to-the-Sun Road
EMD F45 History - GN 441 History - F45 Technical Data - Big Sky Blue - GN 400 "Hustle Muscle"
Rescue and Renovation - Paint Shop - Builder's Photos
Westbound to Montana - The Big Lift - Bringing Montana Indoors - J.J. Renovation
Guest Book - Runby Page - Site Map - Links - Contact Us