A Masterful Suite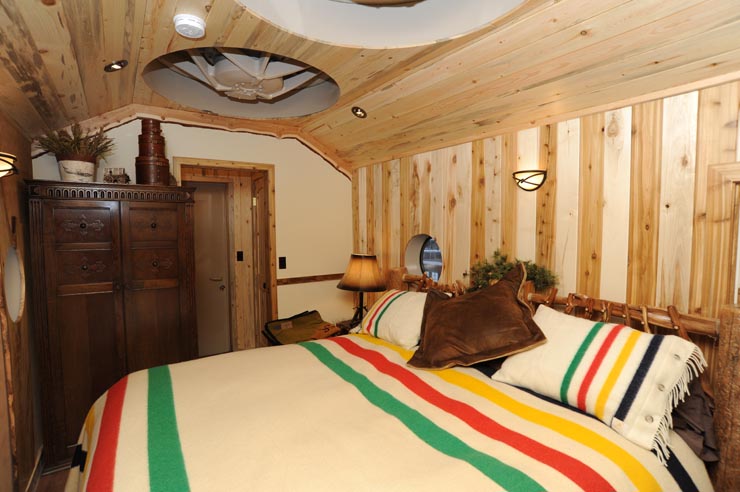 Where cooling fans dissipated diesel engine heat . .
The bedroom invites you with a king size bed topped with a Hudson Bay blanket and pillowcases. An antique wardrobe harmonizes with the blue pine ceiling with live edge trim. Radiator fans in the roof have been transformed into skylights to let in the Montana sunshine. And on those cold Montana nights, you can crank up the coziness with the fireplace.
"The locomotive provided us three nights of great sleep, with the surroundings of total comfort. This place is great. The detail and efficient use of space is incredible. Thank you for helping make memories."

Canyon, Texas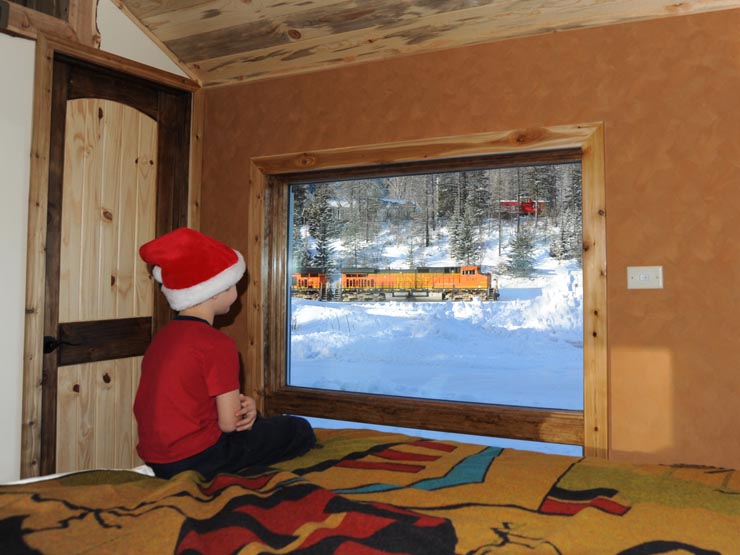 Where engine room doors opened to maintain the big diesel . .
The doors open to a great view of the mountain and the BNSF mainline, in both the living room and the bedroom.
Where oil coolers and oil filters protected the engine . .
Luxury and comfort abounds in the bathroom. Heated rainforest marble floor . . jetted tub framed by walls of travertine stone . . smoked glass sink on a wrought iron base.
Click here for rates and availability.
All photos copyright Tom Lambrecht
Home - Izaak Walton Inn website - IWI GN 441 page - IWI "J.J." page - Online Reservations
Mountain Retreat - Living Room - Master Suite - Kitchen - Control Cab - Luxury Caboose "J.J."
Izaak Walton Inn - Glacier National Park - Glacier Area Activities - Going-to-the-Sun Road
EMD F45 History - GN 441 History - F45 Technical Data - Big Sky Blue - GN 400 "Hustle Muscle"
Rescue and Renovation - Paint Shop - Builder's Photos
Westbound to Montana - The Big Lift - Bringing Montana Indoors - J.J. Renovation
Guest Book - Runby Page - Site Map - Links - Contact Us