Guest Book
A Wedding Aboard GN 441!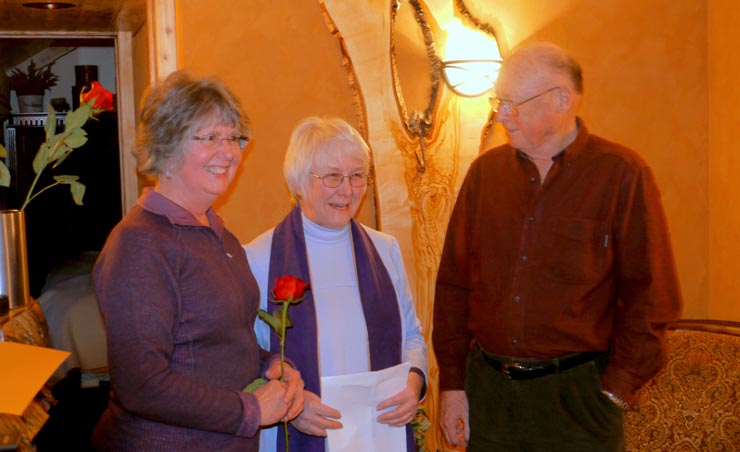 Alysa and Dick Ellison of Port Townsend, Washington, were married in Great Northern 441 on February 22, 2011. Alysa tells the story best:
Being frequent winter visitors to the Izaak Walton Inn, Dick said, "Why don't we get married while we're skiing. I think it would be really special and fun to stay in the locomotive."

With the help of Fran (at the desk) answering our many questions and numerous phone calls, we were booked into the GN 441 and arranged for our minister to perform the ceremony.

After completing our marriage application on line and making arrangements to rent a car from the Inn (to pick up our license in person), we were ready and anxiously awaiting February.

Arriving via the Empire Builder on Monday morning, we picked up our rental car and we were off to Kalispell in a heavy snowstorm. All went well until halfway there, we discovered it was President's Day and, of course, the courthouse would be closed. We made our way back to the Izaak Walton to ski for the day. There could be worse consolations.
On Tuesday, our wedding day, we repeated our trip to Kalispell with success.
As the snow mounted and winter snow advisory conditions escalated, we wondered how our minister was making the drive. A true Montana woman, she arrived on time and in great spirits.
Our wedding was performed by Rev. Donna Lee Martin, with about 15 close friends in attendance. It was an event you could only dream of. Izaak Walton, our friends and the GN 441 made it come true.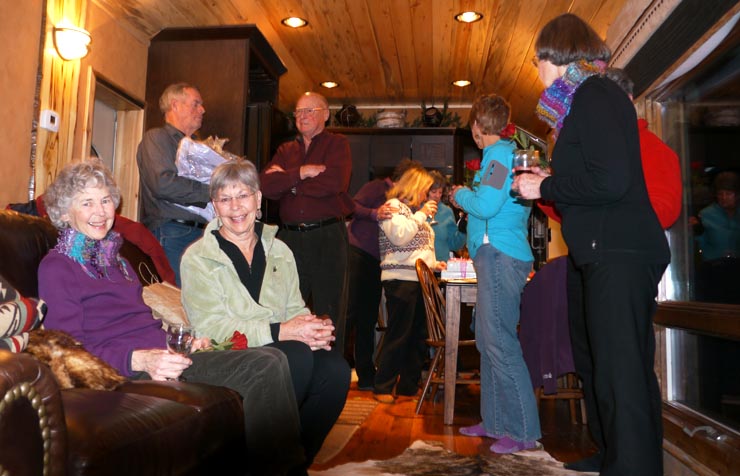 Congratulations to Alysa and Dick, and we wish them all the best in their new life together.

We're honored and delighted that they chose to have their wedding in Great Northern 441.

(Photos copyright Dick Lynn.)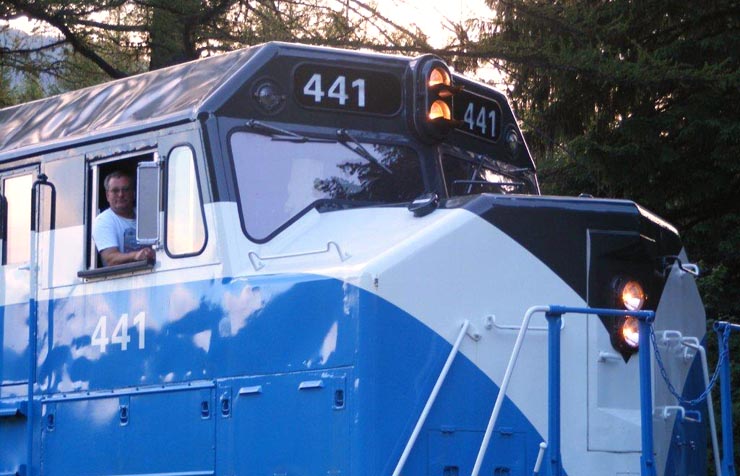 "Mike loved the working headlights," says George Schroeder. "And David wanted to take the entire kitchen home to his wife Rose. We had a GREAT time meeting the Lambrechts and staying in the 441. It's something to put on your bucket list – things to do before you kick the bucket." George stayed in GN 441 in June 2010 with his sons Mike (above) and David, all from Illinois.
"Glacier Park is one more for the bucket list," George adds. "We loved our two day visit. We rode a Jammer tour and rented a car. Amtrak's Empire Builder is the only way to travel to Essex."
| | | |
| --- | --- | --- |
| Keith Bowler, a retired railway worker from Saskatoon, Saskatchewan, visited Essex with his wife Fran in May 2010. "My wife is in a wheelchair so we were unable to rent the 441 for a stay," he said, "but Jamie was very nice and gave me a tour of the unit one evening. I wrote a story about our trip and the 441 for Branchline magazine, a railway publication up here in Canada." | | |
| | | |
A Sample of Guest Comments
"Truly an experience not to be missed. It does not matter if you are a railfan or not. The comfort and attention to detail is second to none. The location and scenery are like nothing we have in Australia. Truly a little slice of heaven. Thank You Tom and Jamie. I am sure we will be back." (Canberra, Australia)

"Most fun EVER! What a thrill to be staying in a locomotive! Great skiing – very happy campers!" (Newport & Spokane, Washington)

"We have loved being here and staying in the GN 441 was icing on the cake. It is absolutely a work of art in every way, and a very special way to honor the trains of old. Looking forward to a return trip sometime in the future." (Mullica Hill, New Jersey)

"The GN 441 is beautiful. We had a great time celebrating our 40th wedding anniversary." (Grand Forks, North Dakota)

"On all counts, the GN 441 delivered – just as it had for so many years on the road! Congratulations to Jamie and Tom and the IWI for making this possible. Thank you for a most impressive and memorable stay that combined Izaak Walton Inn, GN Big Sky Blue and Marias Pass, Montana." (Puyallup, Washington)

"Our kids, 8 and 10, felt this was 'the best place ever!'" (New York City, New York)

"Great place to stay. First class accommodations! Wish the horn worked – but then we wouldn't be allowed back! Thank you! We'll be back." (Ephrata, Washington)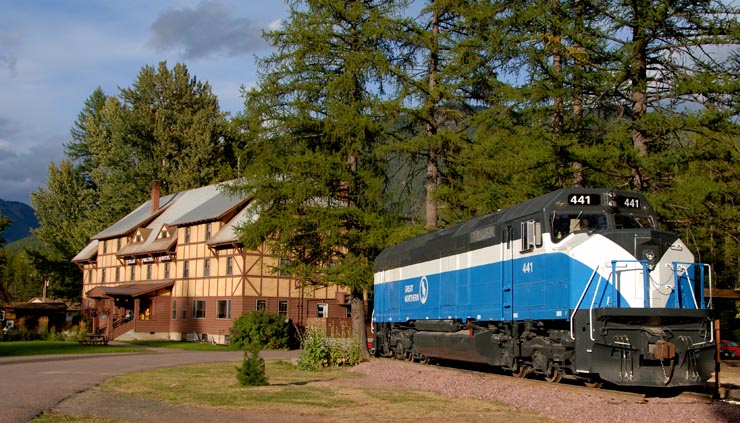 Have you been a guest in Great Northern 441 or Luxury Caboose "J.J."? Please tell us about your experience. You can e-mail us here. If you wish, please send us photos of your stay. We will post the best ones on this page. Thank you!
All photos copyright by the respective guests; last photo copyright Tom Lambrecht
Home - Izaak Walton Inn website - IWI GN 441 page - IWI "J.J." page - Online Reservations
Mountain Retreat - Living Room - Master Suite - Kitchen - Control Cab - Luxury Caboose "J.J."
Izaak Walton Inn - Glacier National Park - Glacier Area Activities - Going-to-the-Sun Road
EMD F45 History - GN 441 History - F45 Technical Data - Big Sky Blue - GN 400 "Hustle Muscle"
Rescue and Renovation - Paint Shop - Builder's Photos
Westbound to Montana - The Big Lift - Bringing Montana Indoors - J.J. Renovation
Guest Book - Runby Page - Site Map - Links - Contact Us