A Commanding View from the Cab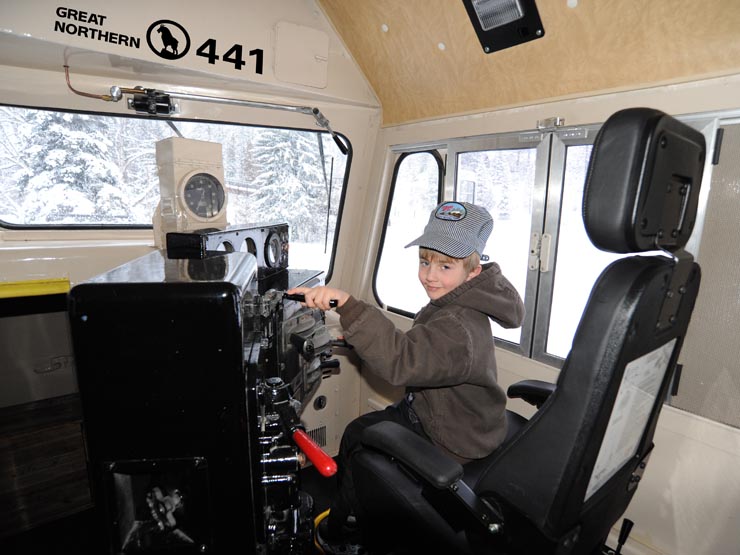 Where railroaders sounded that lonely whistle in the distance . .
The operator's cab has been restored to better than new condition.

Slide into the leather engineer's seat, grasp the throttle, and imagine yourself commanding thousands of horsepower.

You can almost hear the thundering diesels echoing off granite walls and lodgepole pines as your mile-long freight train conquers Marias Pass.
"Our 4-year-old son refused to leave the cab so we set up the cot for him to sleep there. Nothing was more magical than watching our kids squeal with delight every time a train passed, or hearing their imagination at work while 'driving' the train. Thank you for creating such a wonderful place and allowing us to experience it. I believe we've created a family tradition!"

Calgary, Alberta
| | |
| --- | --- |
| At the rear of the cab, the electrical cabinet doors open to reveal the complexity of the locomotive's control wiring. | |
| | |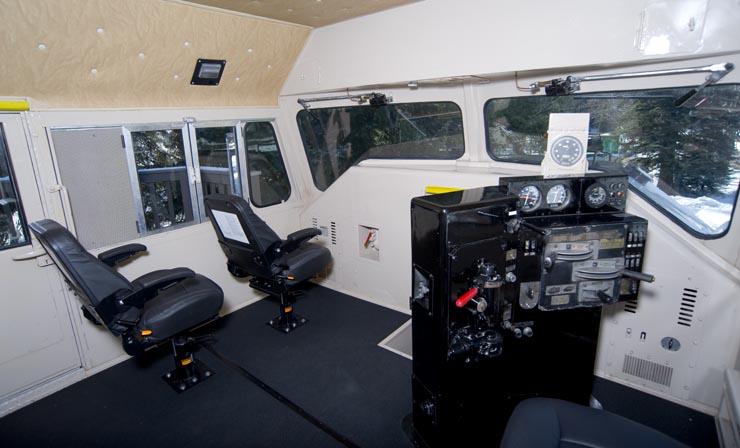 Years ago this room commanded the crew's vigilance and caution. Now it's a great place to relax with family and friends.
Click here for rates and availability.
All photos copyright Tom Lambrecht
Home - Izaak Walton Inn website - IWI GN 441 page - IWI "J.J." page - Online Reservations
Mountain Retreat - Living Room - Master Suite - Kitchen - Control Cab - Luxury Caboose "J.J."
Izaak Walton Inn - Glacier National Park - Glacier Area Activities - Going-to-the-Sun Road
EMD F45 History - GN 441 History - F45 Technical Data - Big Sky Blue - GN 400 "Hustle Muscle"
Rescue and Renovation - Paint Shop - Builder's Photos
Westbound to Montana - The Big Lift - Bringing Montana Indoors - J.J. Renovation
Guest Book - Runby Page - Site Map - Links - Contact Us