A Living Room of Luxury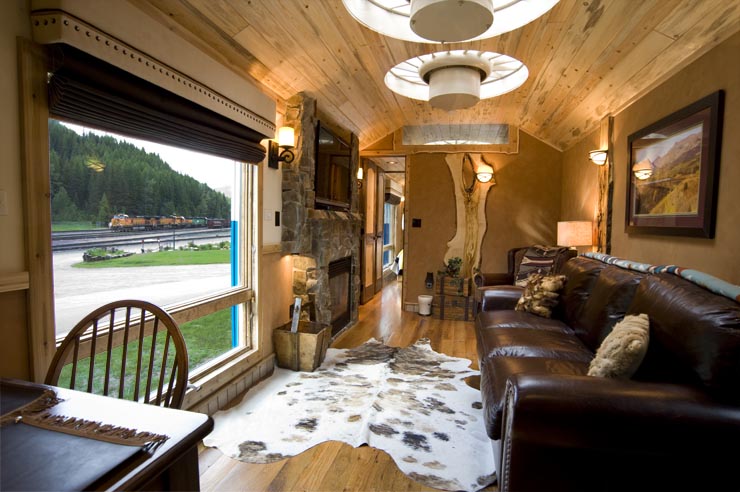 Where a 3,600 horsepower turbocharged diesel roared . .
There is a 400-year-old reclaimed oak floor . . wall accents of birch, cedar and cottonwood. . leather comfort sleeper sofa . . native Montana Argillite stone fireplace . . rubbed oil bronze fixtures . . and a 46-inch LCD television.

GN 441's interior creatively reflects Montana's unique blend of flora, fauna and geology.
"What a celebration this has been for us! The wonderful details, the setting, the warmth, the beauty: it has all been wonderful! Thank you for having a vision and for carrying it out for others to share."

Cedar Falls, Iowa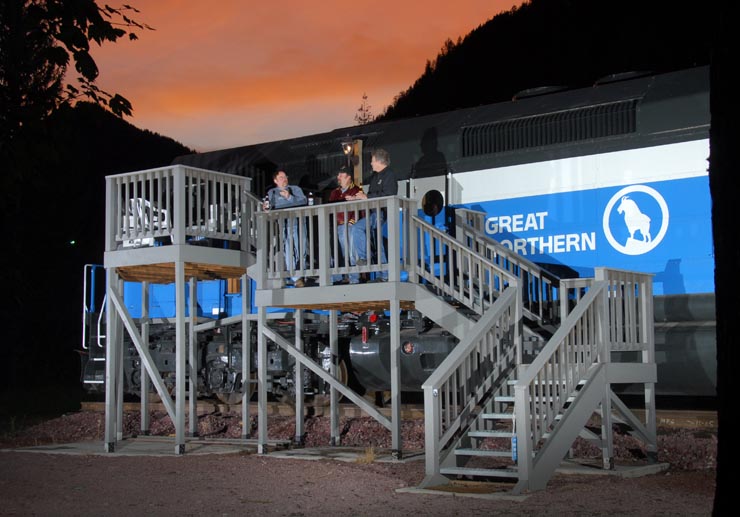 The living room opens to a spacious multi-level porch, perfect for an outdoor party – or for sharing a crisp mountain sunset, fragrant with boundless pine wilderness. Montana's essence is just outside the door of Great Northern 441. (Photo copyright Moonlight Haze.)
Where engine room doors opened to maintain the big diesel . .

The doors open to reveal picture windows in the living room and master suite. Try it out; mouse over GN 441!
Click here for rates and availability.
All photos copyright Bill Christopher unless credited otherwise
Home - Izaak Walton Inn website - IWI GN 441 page - IWI "J.J." page - Online Reservations
Mountain Retreat - Living Room - Master Suite - Kitchen - Control Cab - Luxury Caboose "J.J."
Izaak Walton Inn - Glacier National Park - Glacier Area Activities - Going-to-the-Sun Road
EMD F45 History - GN 441 History - F45 Technical Data - Big Sky Blue - GN 400 "Hustle Muscle"
Rescue and Renovation - Paint Shop - Builder's Photos
Westbound to Montana - The Big Lift - Bringing Montana Indoors - J.J. Renovation
Guest Book - Runby Page - Site Map - Links - Contact Us