EMD's F45: King of the Hill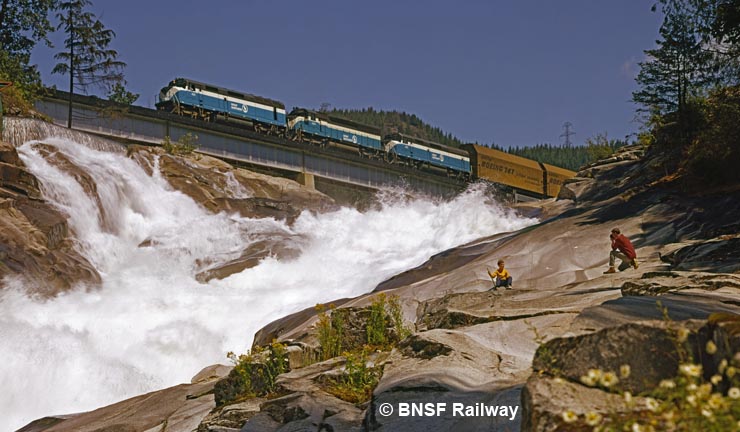 Locomotives never looked much better than this. Resplendent in Big Sky Blue, two of Great Northern's F45s (with an SD45 in the middle) haul components for Boeing's brand-new 747 jumbo jet across the South Fork of the Skykomish River in the Cascade Mountains near Index, Washington. This 1969 publicity photo, taken by Bob Harr of Chicago's famous Hedrich-Blessing Studios, was featured on GN's 1970 calendar.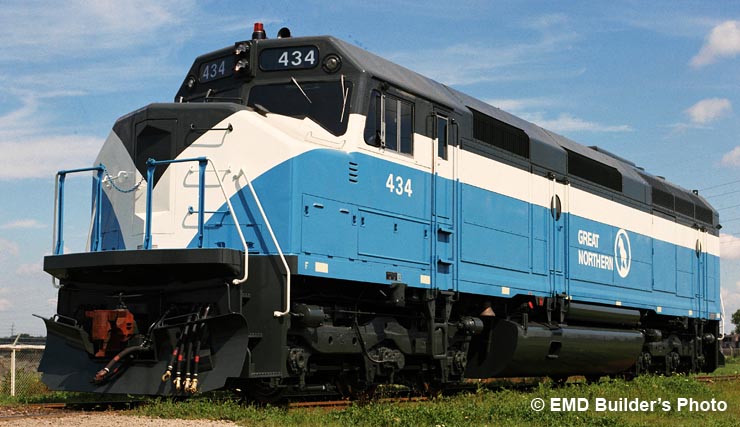 The F45 was king of the hill in 1968. Built by the Electro-Motive Division of General Motors in LaGrange, Illinois, it represented the peak of the Great Locomotive Horsepower Race of the 1950s and '60s, when locomotive builders competed with more horsepower and pulling power.
It was a big locomotive for its time – 67 feet long, 195 tons, with a 3,600 horsepower, 20-cylinder diesel engine – and it employed the latest locomotive technology. The big diesel drove a main alternator, and a bank of silicon-based diodes rectified the AC current into DC to power the six traction motors geared to the axles. In its day, this was a state-of-the-art locomotive.
The F45 was unusual for its "cowl" carbody spanning the full width of the locomotive. Mechanically, it was identical to EMD's popular SD45 (below).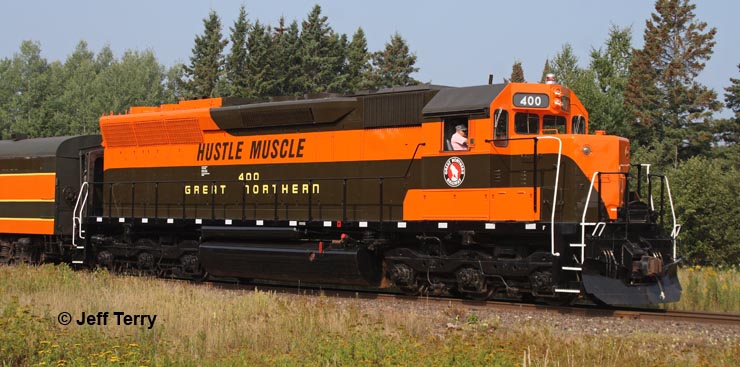 The SD45, like most locomotives, has a narrow hood housing the machinery, with external walkways on both sides. This makes it easier to inspect and maintain the diesel engine and other equipment, and it provides better visibility for the operating crew. But external walkways accumulate snow and ice, making them hazardous to employees during the winter.
The Great Northern Railway knew a thing or two about winter. Their mainline was seldom far from the Canadian border, and the GN had to struggle with the worst winter weather in the Lower 48. They were pleased with the 27 SD45s they already had, and the F45's cowl carbody would help protect crews during the severe weather, so they ordered 14 units at a cost of $305,700 each - worth about $1.8 million today.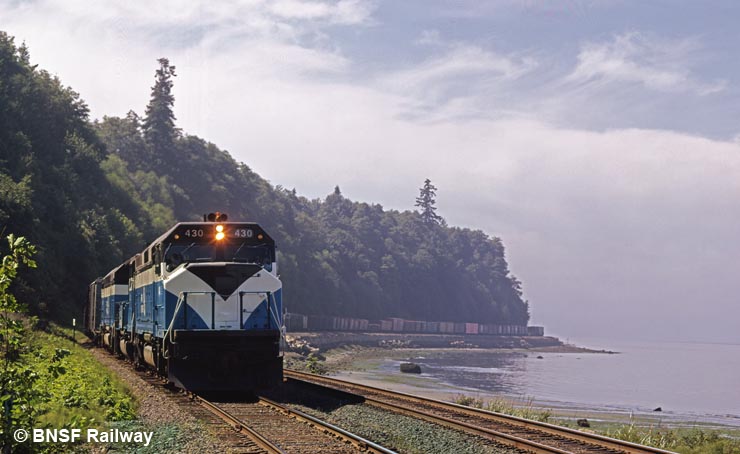 Delivered in the summer of 1969, Great Northern 427 through 440 wore GN's striking "Big Sky Blue" paint scheme. They hauled high priority freight between Portland, Oregon; Seattle, Washington; and Minneapolis, Minnesota, rolling past the Izaak Walton Inn every day. In this 1969 GN publicity photo (also by Hedrich-Blessing), two F45s and an SD45 handle a northbound freight along Puget Sound just south of Mukilteo, Washington.
GN liked their F45s enough to order another dozen. But while they were being built, on March 2, 1970, the Great Northern merged with three other railroads – Northern Pacific; Chicago, Burlington and Quincy; and Spokane, Portland and Seattle – to create the Burlington Northern Railroad. The new locomotives were delivered in BN's new "Cascade Green" paint scheme and numbered 6614 through 6625. BN received 20 more F45s, 6626 through 6645, in 1971.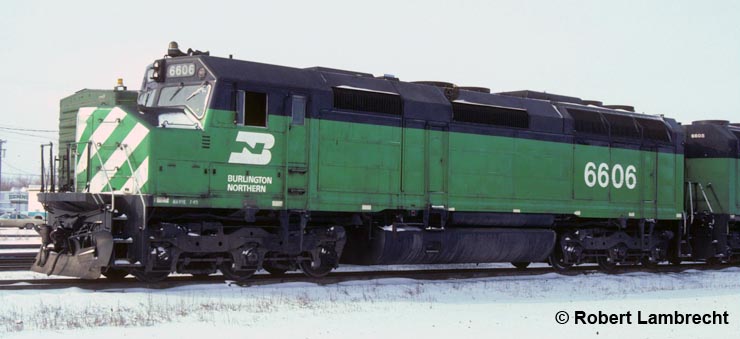 The original Big Sky Blue F45s were renumbered BN 6600 through 6613 shortly after the merger and eventually painted Cascade Green. All of them were retired by BN in June 1984. In March 1985, BN 6606, formerly Great Northern 433, was catching snow in Havre, Montana. The next month it was purchased by National Railway Equipment and leased to the Utah Railway, where it would work for another six years.
Do you have photos of any of these locomotives in service?
Please contact us!
Click here to learn more about GN's "Big Sky Blue" paint scheme.
Home - Izaak Walton Inn website - IWI GN 441 page - IWI "J.J." page - Online Reservations
Mountain Retreat - Living Room - Master Suite - Kitchen - Control Cab - Luxury Caboose "J.J."
Izaak Walton Inn - Glacier National Park - Glacier Area Activities - Going-to-the-Sun Road
EMD F45 History - GN 441 History - F45 Technical Data - Big Sky Blue - GN 400 "Hustle Muscle"
Rescue and Renovation - Paint Shop - Builder's Photos
Westbound to Montana - The Big Lift - Bringing Montana Indoors - J.J. Renovation
Guest Book - Runby Page - Site Map - Links - Contact Us