GN 400 "Hustle Muscle"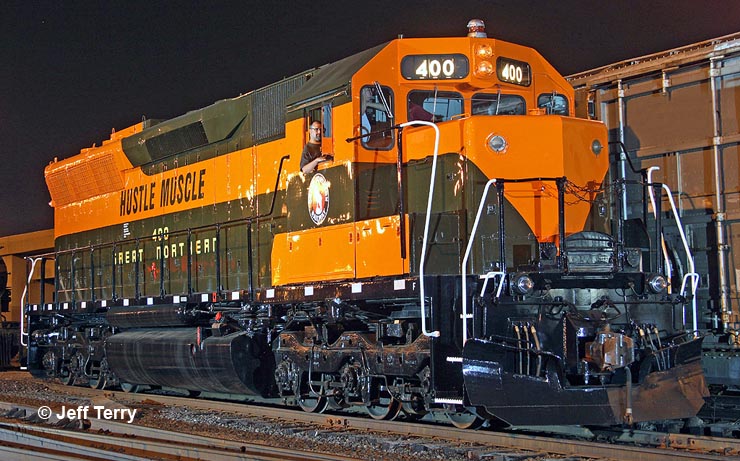 The F45 owes its existence to an earlier locomotive, the SD45. Both were built by the Electro-Motive Division of General Motors at LaGrange, Illinois; the F45 is essentially an SD45 with a full-width carbody. In December 1965 and January 1966, EMD built three demonstrator SD45s, numbers 4351 through 4353, to road test its new 20-cylinder 645E3 prime mover (diesel engine); previously the largest prime movers were V-16s.
Great Northern was the first customer for the SD45, taking delivery of eight units, GN 400 through 407, in May and June 1966. Above, 43 years later, the first production SD45 poses in Duluth, Minnesota during the National Railway Historical Society convention in August 2009. Today it looks almost exactly like it did when brand new.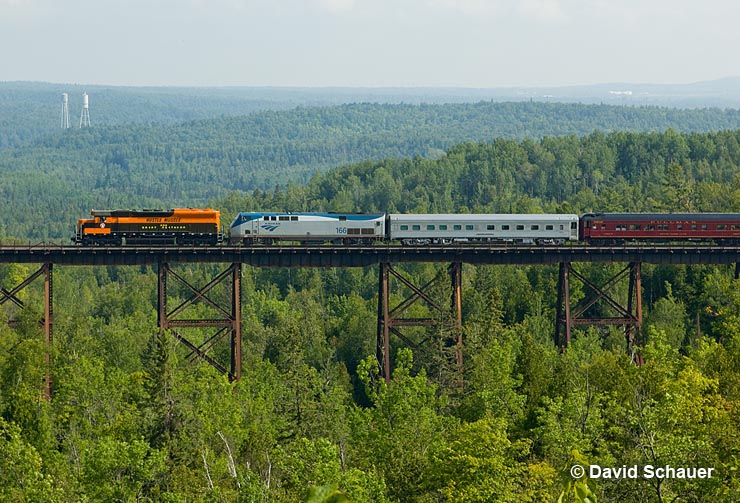 At the time EMD and its competitors, General Electric and Alco, offered 16-cylinder models rated at 3,000 horsepower. The SD45's four extra cylinders broke this barrier with the first 3,600 hp locomotive. While the 3,000 hp SD40 could match its performance below 20 mph, the SD45's extra horsepower gave it the edge on fast, high-priority trains, inspiring Great Northern to name its first SD45 "Hustle Muscle." On August 15, 2009, it leads the NRHS convention special over the Huson Bridge near Wrenshall, Minnesota, on BNSF's ex-GN Lakes Subdivision.
EMD would eventually build 1,260 SD45s, making it one of the most popular locomotives of its day. They also built 52 SDP45s, a version adapted for passenger trains, as well as 86 F45s and 14 FP45s. GN acquired 27 SD45s, 8 SDP45s and 14 F45s.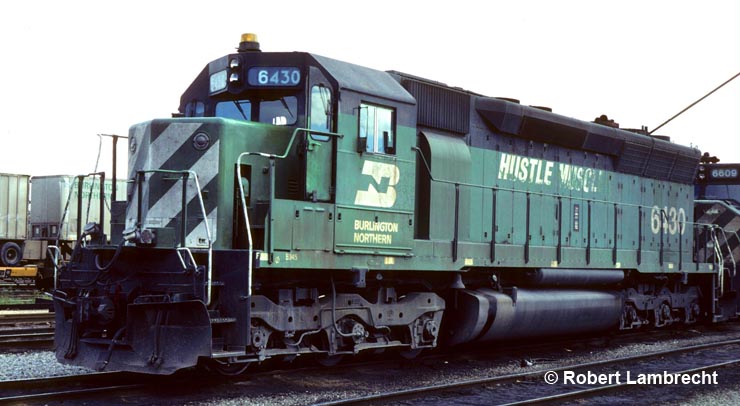 After the 1970 Burlington Northern merger, GN 400 became BN 6430. In September 1973 it was overhauled at Livingston, Montana, and repainted Cascade Green; BN heeded many requests from employees and fans and the unit retained its "Hustle Muscle" lettering. In 1979, it awaited its next assignment at Clyde Yard, BN's big Chicago yard in Cicero, Illinois.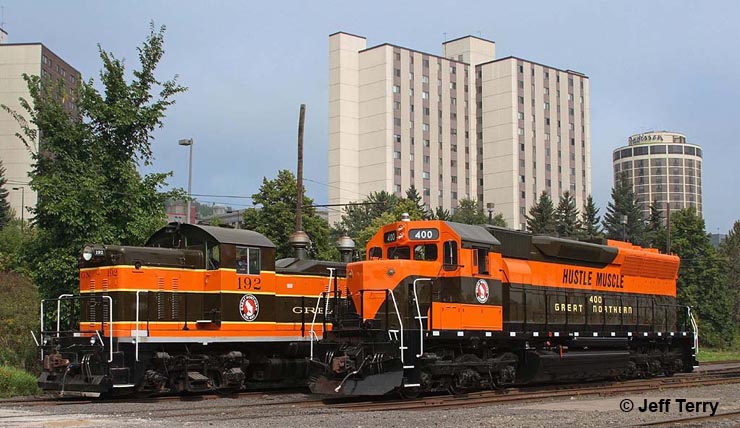 BN retired the 6430 in 1986 and donated it to the Great Northern Railway Historical Society, who repainted it in GN colors three years later and kept it at the Lake Superior Railroad Museum in Duluth, Minnesota. On September 13, 2009, it poses at the museum with Great Northern 192, an EMD NW5 built in 1946.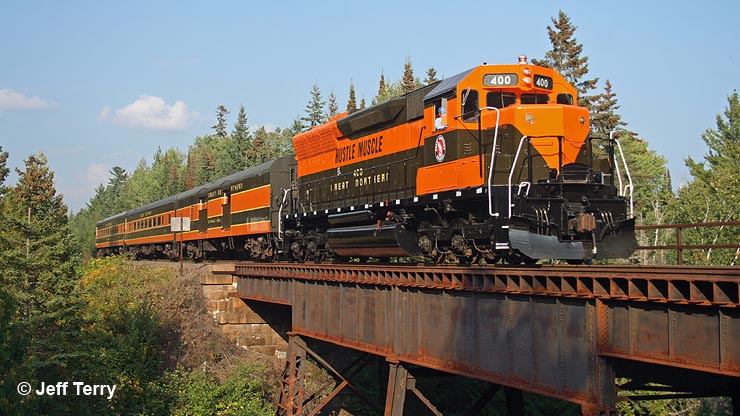 In December 2000, GN 400 moved to the Minnesota Transportation Museum's Jackson Street Roundhouse in St. Paul, Minnesota. It was repainted again in 2006; still owned by GNRHS, it often pulls the museum's collection of GN-painted passenger cars. Here it crosses the French River bridge near Duluth on September 12, 2009 – the day after GN 441 was lifted onto its track at Essex.
The folks behind GN 441 admire this historic and beautiful machine, and we salute the people who saved it, restored it and keep it running.
Information from:

Great Northern Railway Historical Society

Great Northern Empire

The Great Northern Railway Page

Minnesota Transportation Museum
Do you have photos of this locomotive prior to 1987?
Please contact us!
Home - Izaak Walton Inn website - IWI GN 441 page - IWI "J.J." page - Online Reservations
Mountain Retreat - Living Room - Master Suite - Kitchen - Control Cab - Luxury Caboose "J.J."
Izaak Walton Inn - Glacier National Park - Glacier Area Activities - Going-to-the-Sun Road
EMD F45 History - GN 441 History - F45 Technical Data - Big Sky Blue - GN 400 "Hustle Muscle"
Rescue and Renovation - Paint Shop - Builder's Photos
Westbound to Montana - The Big Lift - Bringing Montana Indoors - J.J. Renovation
Guest Book - Runby Page - Site Map - Links - Contact Us